Whenever you arrive to a new country there are certain things you must know. Questions like "Where is the bathroom" or how to say "Thank you" will ease your life. At Basque Tours we are wine lovers and we know you are too. As a wine aficionado you need to know about ordering wine in San Sebastian like a local. Thus, when joining us in our city & pintxo tour nobody will distinguish who is the guide. Let's go for it!
Ordering by the glass or the whole bottle, up to you
First thing we need to know is how to ask for some wine. Depending on where you are having fun you will order a glass of wine or the whole bottle. As you may know San Sebastian is famous for its little bites, the pintxos. At the time we are having pintxos, we tend to have a glass of wine along the bite. One pintxo, one glass.
How to ask for that? Una copa de vino, por favor or Un vino, por favor.
That was easy right? But, what happens if you want the whole bottle? Then, Una botella de vino, por favor.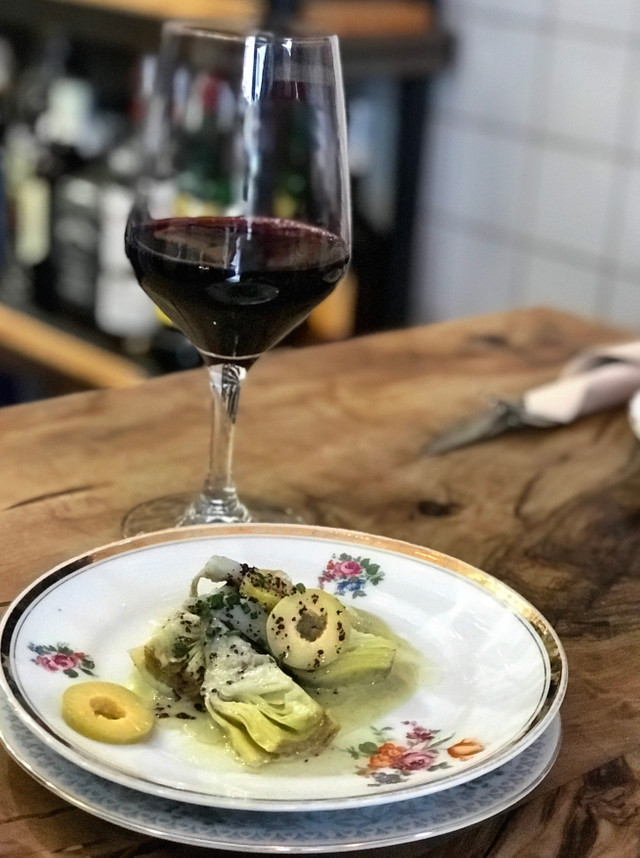 Ordering Bubbles, white, rosé, red…
Aha! A very important aspect is missing in those first sentences! What kind of wine is your favorite one? We need to give some more information to the waiter or he/she will bring us whatever they want. Pay attention!
A glass of white wine: Una copa de vino blanco.
I want a glass of rosé: Quiero una copa de vino rosado.
I want a bottle of sparkling wine: Quiero una botella de espumoso. Don't panic if you hear the word "Cava", it is the biggest sparkling appellation of the country.
Ordering wine like a local: Txakoli, Rioja, Ribera del Duero…
As a mediterranean country we are, you can find vineyards in every corner of the country. The origin of the wine has always been important and is becoming more and more relevant, so you need to know which are the most common wines you will find in San Sebastian
Txakoli (Cha-ko-lee) is the name of the local wine that is made few kilometers away from San Sebastian. As almost the whole txakoli production is white, if you ask for a Txakoli you will get a crispy white wine.
Rioja and Ribera del Duero are two of the most famous wine regions characterized by making excellent red wines. If you are in love with reds remember these two names and try to pronounce the first 'R' they both have as strong as you can -> RRRRRioja, RRRRibera del Duero…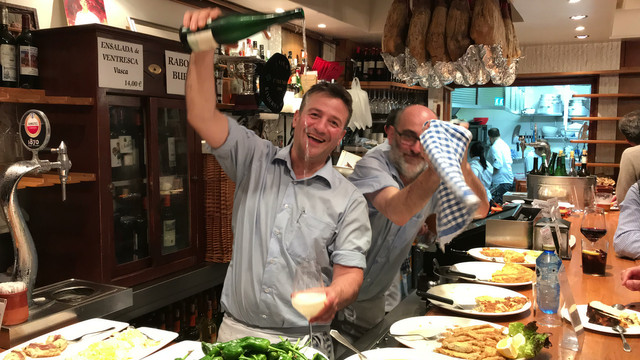 Joven, crianza, reserva…
By now we know how to ask for some wine and to specify the quantity, the color or type, and the origin. It is time to learn how to ask for aged wines.
In Spain, wines have traditionally been classified following their aging times. Joven is a young wine that generally has not gone through a aging process in a barrel. Crianza is a wine that has aged for some months in an oak barrel and later in the bottle so it is perfect for you to drink. Reserva is a category where the more aged wines are classified. Longer aging times in barrel and bottle make them deeper, more majestic and deliciously rounded.
Ready for ordering wine in San Sebastian like a local
By knowing this you are ready to get out there and start ordering wine in San Sebastian like a local. Last recommendation we would like to give you is to try as many different wines as you can during your stay as there is a rich diversity to discover. But remember, always with moderation.
Cheers! Salud! Topa!