When we want to explain what the San Sebastian Beach Lifestyle is, One of the most common examples we mention is that is one of the few cities where you walk from your apartment barefoot , wetsuit on and surf in tow, straight to the waves in 2 min ( 10 if you are not one of the lucky ones!) Yes, surprise we are a surf destination.
Zurriola Beach is the surf beach of San Sebastian ( 1 of three beaches the city has). Its located in the hood of Gros where you can feel that relaxed, healthy, chilled vibe that mixes so well with the amazing food+ drink scene. Don't miss this part of the city . We feel like its where all the good things come together.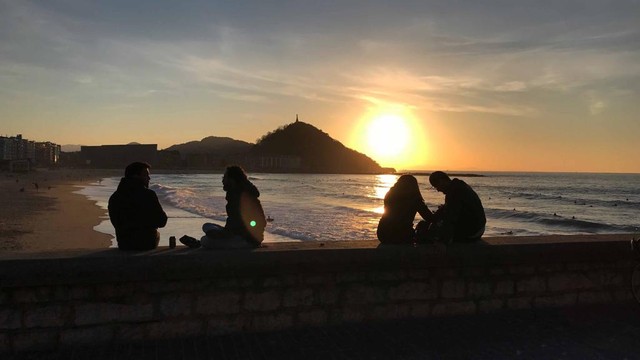 BEACHES WE LOVE, NEAR San Sebastian
It rains they said. Its not a beach destination. You thought you were only coming here for the food. And you find yourself with an inviting coast. Warm sunny weather with a great beach vibe. This week a look at some of our favourite beaches nearby.
This is Saturraran. Legends has It that Satur went out to sea and Aran could not bear being without him and cried to join him. A Roar was heard and these two rocks appeared at the same time that Aran vanished.
The beaches just across the border, in the French Baque Country are also some of BIG FAVORITES. BIDART, BIARRITZ, SAINT JEAN DE LUZ AND GUETHARY, are a quick 20-30 minute drive from San Sebastian, and give you that peaceful French Beach vibe.