Who does not love flowers and the joy they bring when you receive them? A bouquet of flowers really illuminates a room and they bring live and color to our living spaces. We encourage everybody to please grow the habit of gifting flowers and plants; everybody loves them! Here you have a couple of best flower and plant shops in San Sebastian to choose from.
Our beloved city has many beautiful gardens and parks , and it is also surrounded by mesmerising hills and mountains full of a wide variety of trees, plants and flowers. It is cute and heart warming to see people walking down the street carrying flowers… let's not let this go away and keep buying flowers!
If your partner is celebrating his/her birthday, or you guys are celebrating your wedding anniversary, or you just want to celebrate that you are happy to be with us here in San Sebastian, go check these places and buy yourself a nice bouquet of flowers.
This beautiful shop is located in front of the main entrance of the María Cristina Hotel; in the heart of the city.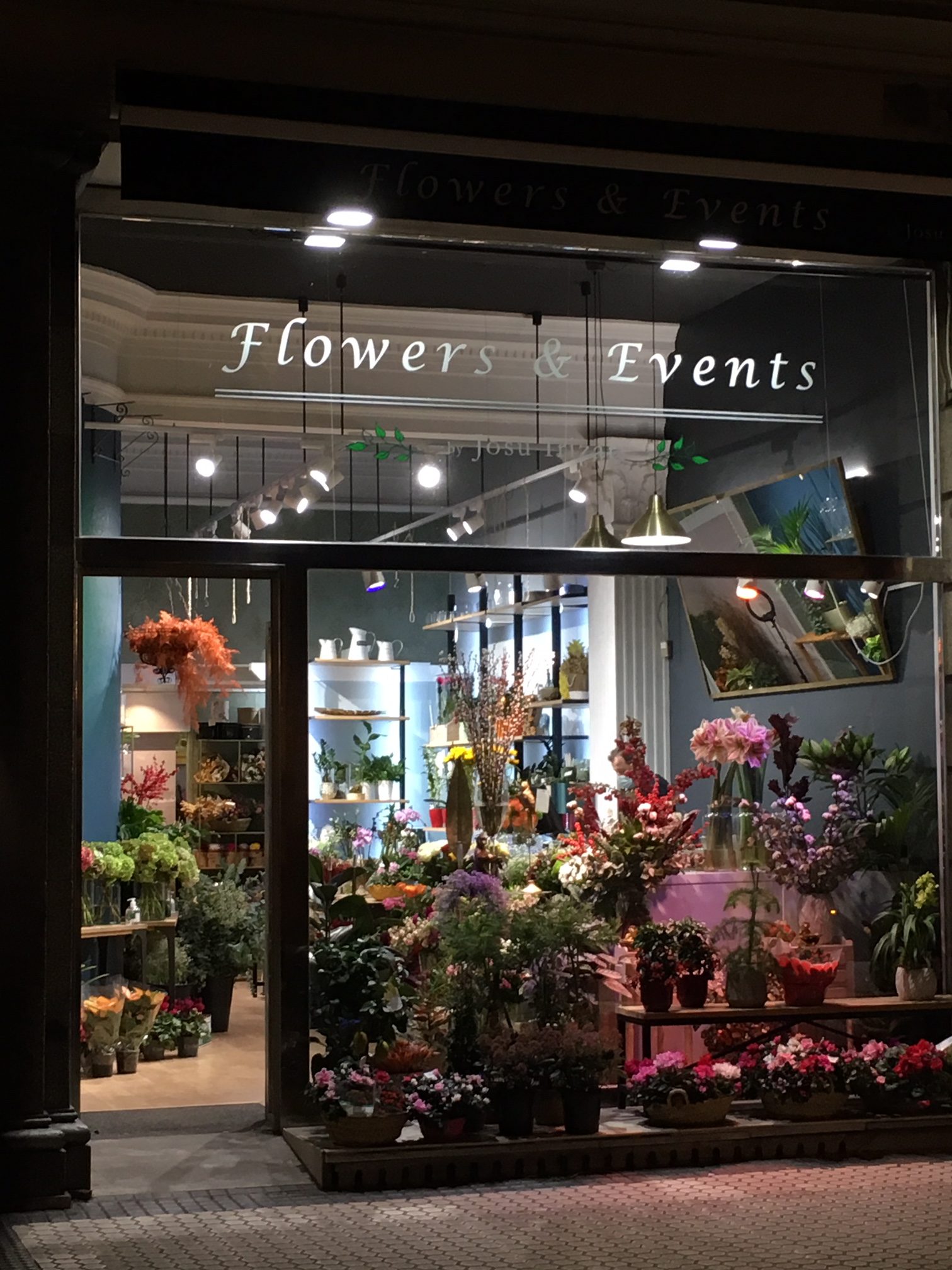 Almost everybody who has been married in San Sebastian knows Josu, the owner, and his business. He has been working in different locations of the city for more than 20 years, and now that he is in the center of the town, he could not be happier.
All husbands and wifes to be have checked his creations for weddings, as that is this place´s specialty; but you can always find the perfect answer for any kind of need you may have flower wise.
Josu will always bring an imaginative, original and never seen before creation for you. Even if you just tell him what you are looking for in a very vaguely way, we will just get the gist of what you desire and transform it into a beautiful arrangement. It is kind of magic what he does.
When asked about a peculiar flower, he immediately turns his eyes into the Amaryllis. This Brazilian flower blossoms in the summer, so that is why we can enjoy them now in San Sebastian, at this time of the year. It seems that its stem is hollow, so it can be watered just pouring some water in it. Even if you put the flower upside down, with water in the stem, it lasts quite a bit. It is definitely a beautiful flower.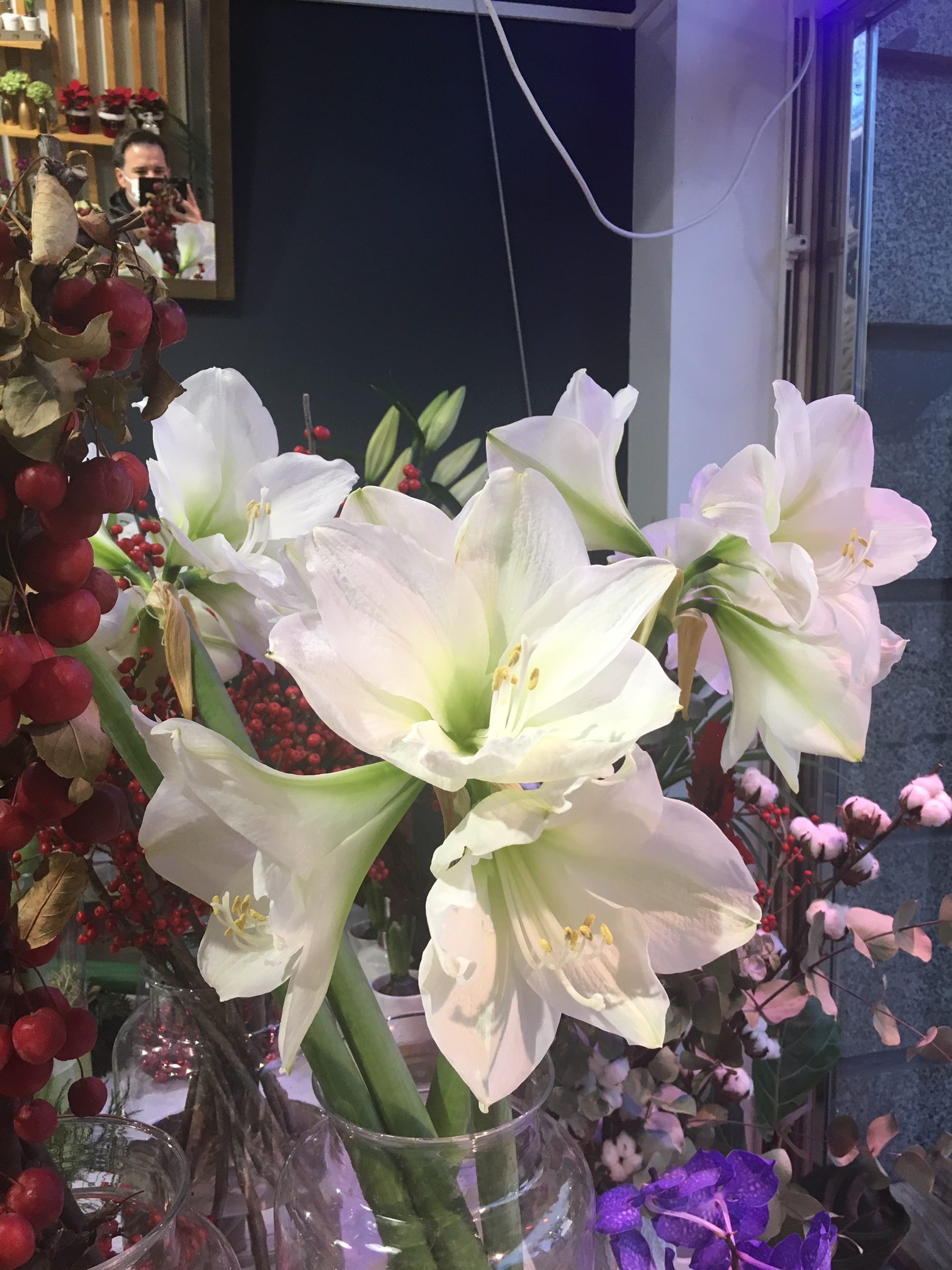 One cannot miss Natalia´s very own BOTANIKUM flower shop when walking through the streets of Gros neighborhood. It is cozy to the core and one cannot help to enter, have a chat with Natalia and buy a couple of plants.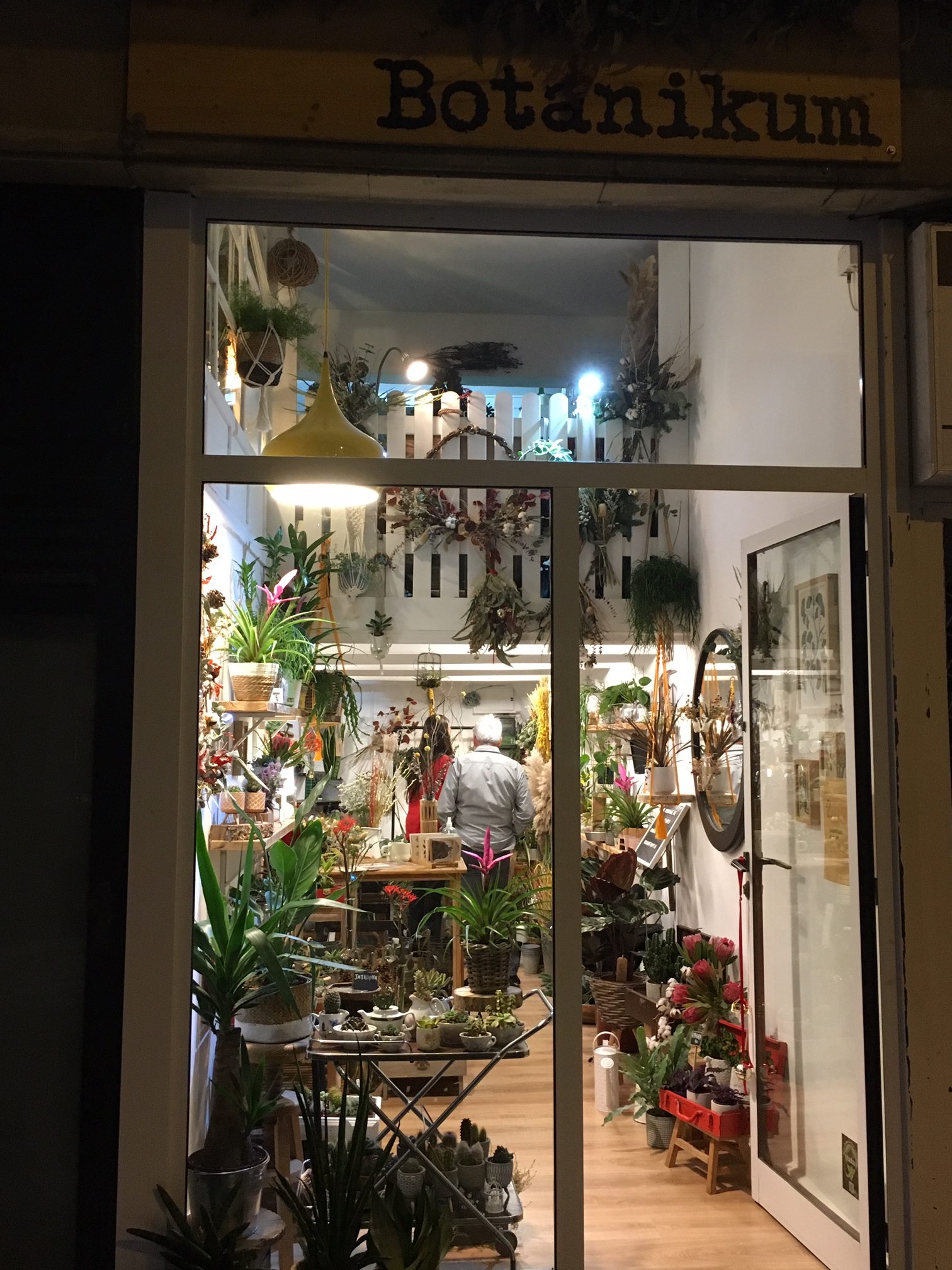 BOTANIKUM is specialized in interior plants, dried wild flowers and cactuses in all of their varieties. Are you looking for something out of the box? This is the place to visit for that.
It is a tiny shop in one of the main pedestrian streets in Gros but it definitely has a big personality; like its owner.
Natalia is originally from Argentina but she is living with us for the last 18 years. This entrepreneur had the courage to opening her business during the pandemic. The shop opened its doors back in July. Kudos to her and her initiative! She is having a lot of success and we do hope she will continue having it!
When we interviewed her, she was right into Christmas related creations and decorations and have a look to the original Christmas tree she has come up with!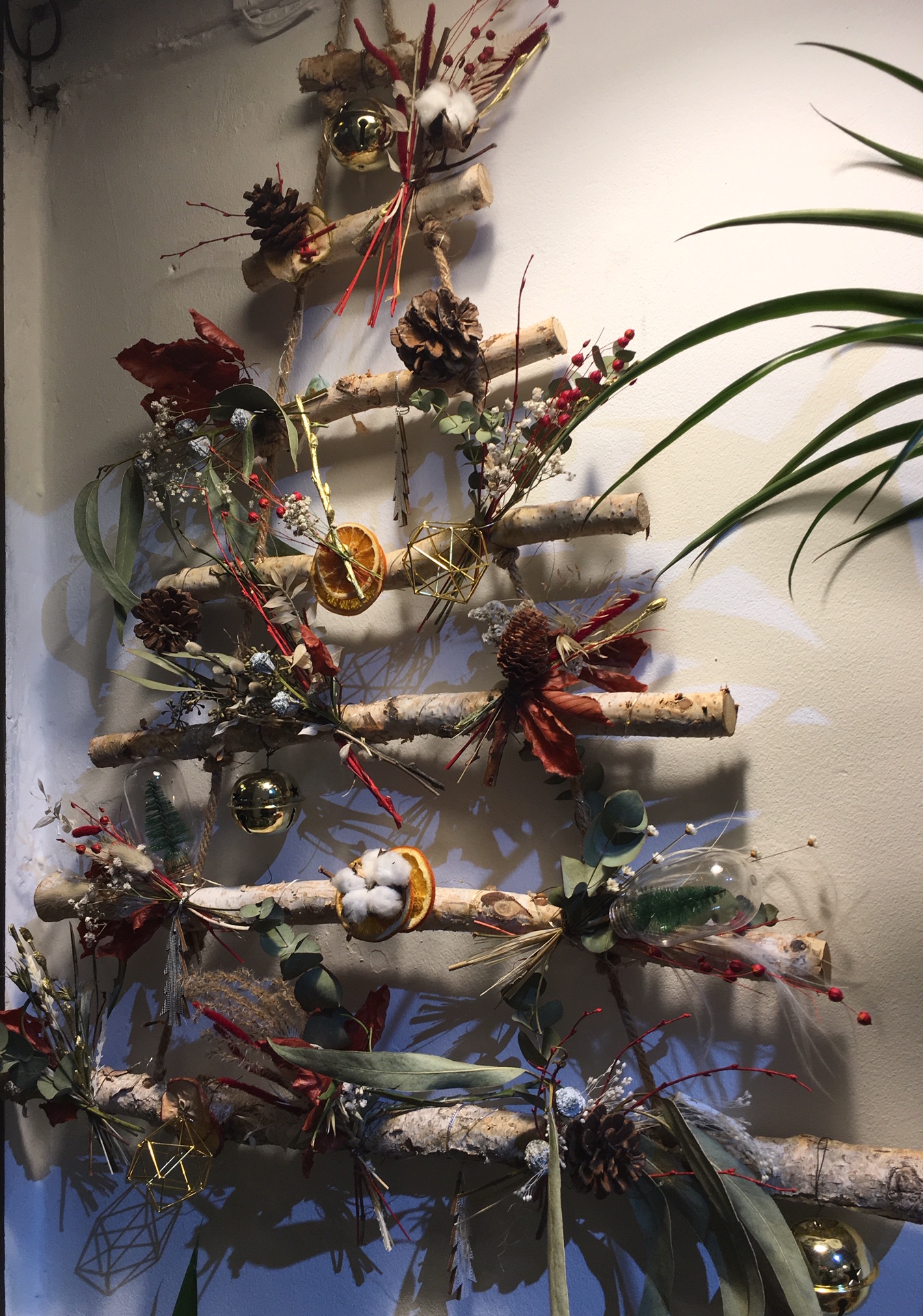 We love creative people, we always get motivated and inspired by them and we hope, BASQUE TOURS being also a great hub for creative, original and mind-blowing tours, to inspire others through these visits and chats.
BOTANIKUM and the coffee shop OH BA BA (which is also in Gros) are collaborating and you can find Natalia´s creations displayed there.
OH BA BA is also a new business, they were born in the middle of the pandemic and we would like to wish them luck in this new venture! We are sure they will be successfull!
We would also like to mention…
Finally, we would also like to mention a beautiful flower shop that is located in the Old Part of San Sebastian. They are VILLA FLORES and they really create super artistic and imaginative arrangement for all kinds of events.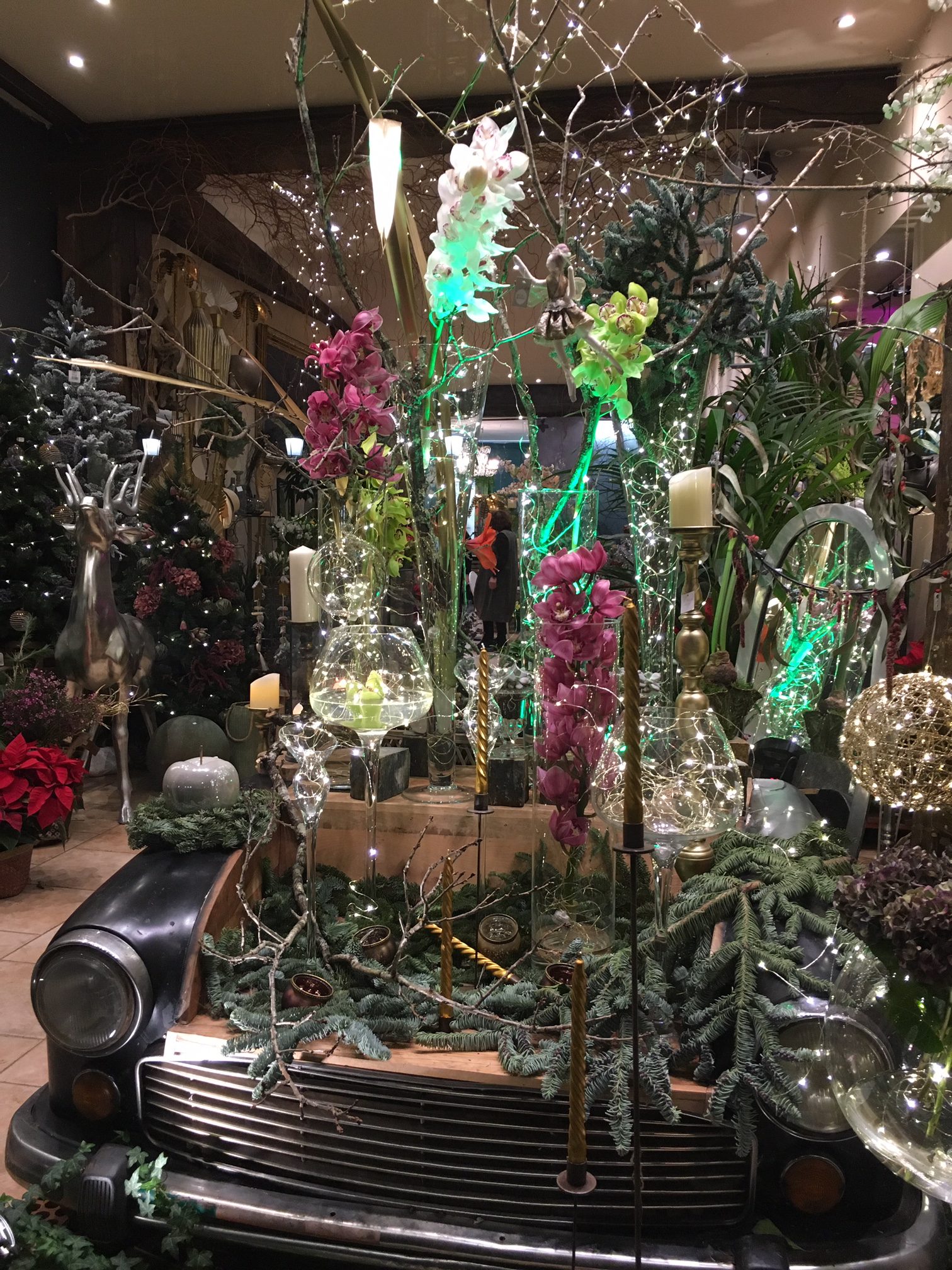 This year they are showcasing a breathtaking window display! Everybody in town is talking about it. Congratulations for your great job!