It is needless to say that the best souvenirs of a holiday are the ones that we cannot put into a little gift box and take back home with us. Nevertheless, in this blog we want to introduce you to the top 5 souvenirs you can buy in San Sebastian.
If we were asked about which 5 intangible things you should take home with you from San Sebastian, as tacky as they might sound, they would have to be:
1.- The smell of the sea. We call that kresala here.
2.- The taste of a gilda pintxo in your mouth when you eat it for the first time.
3.- The sound of a traditional Basque song, sang spontaneously by a group of friends in the streets of the city.
4.- The feeling of an aching hand after a firm and honest Basque handshake.
5.- The breathtaking view of the Concha bay from Mount Igueldo.
Those would be our choices, the ones that will stay and remain with you the longest, and guess what! You will be able to experience and keep them close to your heart when you come visit us.
As mentioned earlier, we all love to buy little things here and there just to remember our experiences while on holidays. That is why, here we introduce you to a little list of perfect souvenirs you can buy in San Sebastian:
1.- ARSÈNE ET LES PIPELETTES baby clothing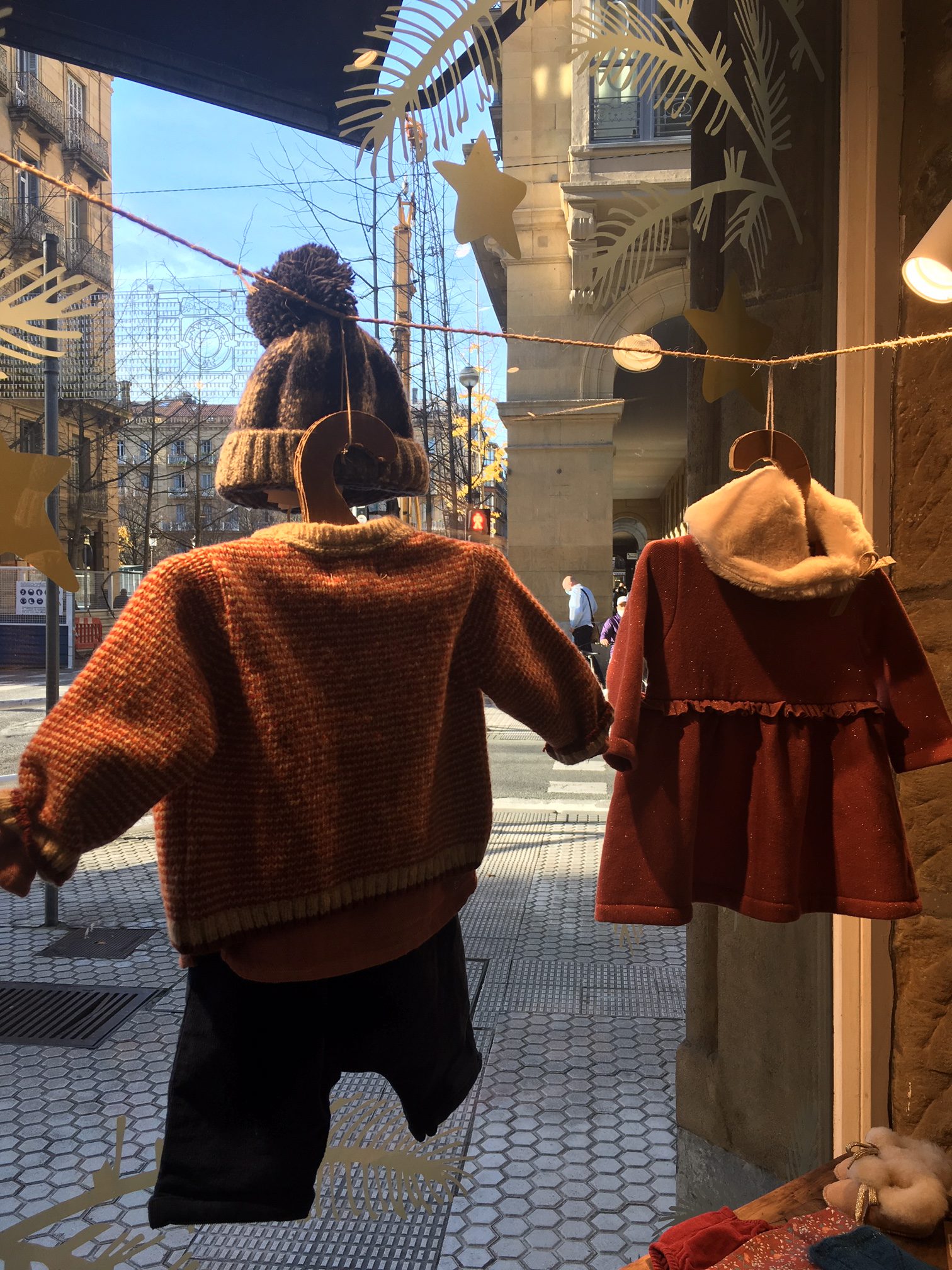 What a better souvenir for your children or grand-children than a piece of baby clothing made locally? The best place in town for that is definitely Arsène et les Pipelettes.
The people working at the store are very helpful and will happily assist you in looking for the perfect item for your child. Now that we are in autumn, all the shop is looking so cozy in warm, brown and orange colours. It is really a delight to enter and spend some time there.
The business was created in Saint-Jean-de-Luz, just 30 minutes away from San Sebastian in the French side of the Basque Country, so you will be able to check their stores in Saint-Jean-de-Luz, Bayonne and Biarritz, during our French Coast tour, or in San Sebastian during our city tour.
2.- ATLANTIS accessories and much more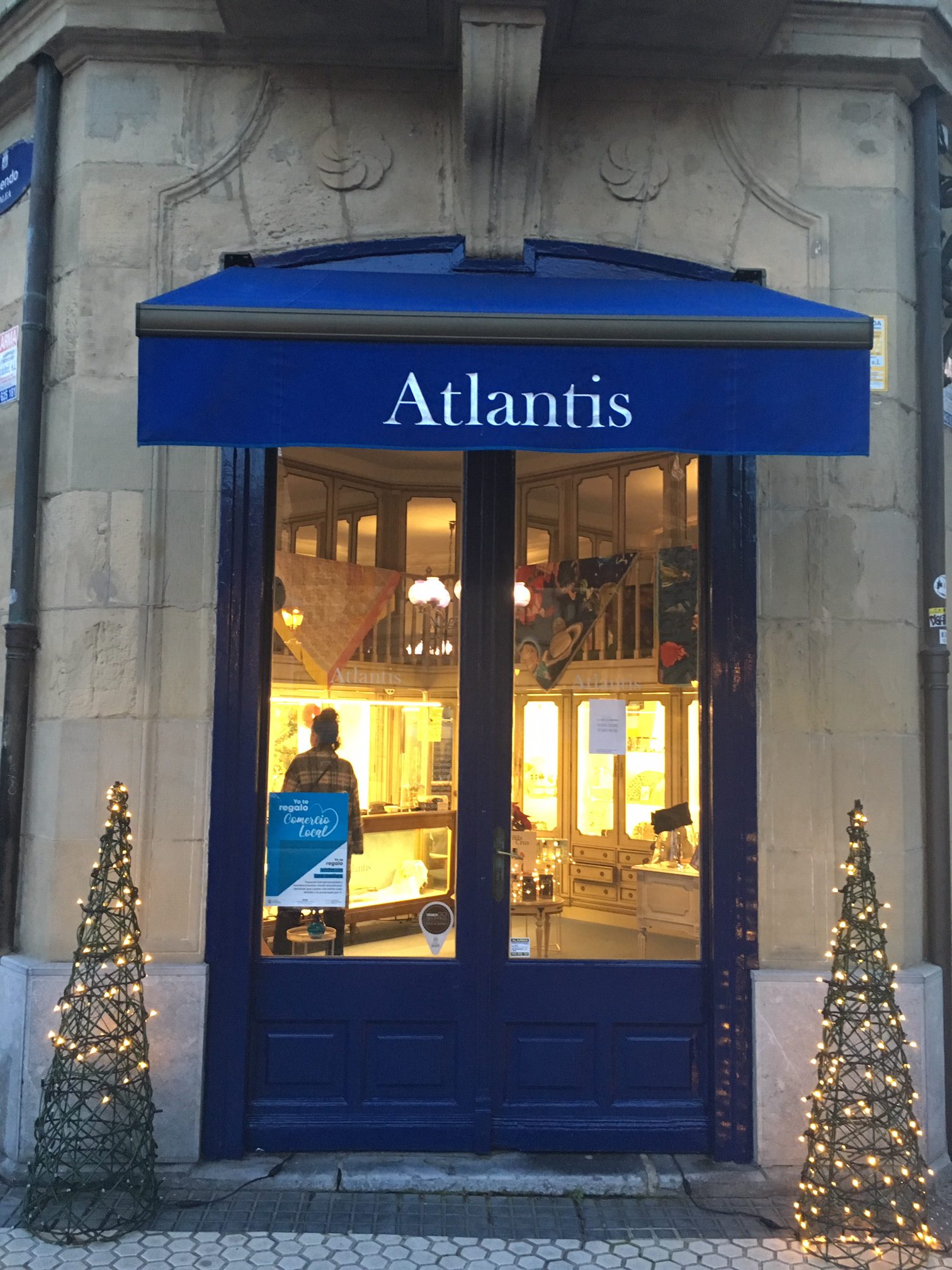 When you enter this boutique it seems that you have travelled back in time to the Paris of the 1920s. Even the song "Sous le ciel de Paris…" was playing when we last visited the store and immediately we were taken to a Parisian café surrounded by painters, poets and philosophers drinking their wine, smoking their cigarettes and discussing endless hours about the state of the arts.
It is definitely a place to visit during your stay in San Sebastian. They are specialised in all kinds of accessories such as earrings, necklaces, scarfs, hats, brooches, rings, and many other goodies. Located just in front of the María Cristina Hotel, you will immediately recognise it by its eye-catching window displays.
Elisabeth, the owner of Atlantis, has been selling these treasures for the last 30 years in the city, and for the last 5 she has been in the current location. During our chat with her, she was kind enough to model for us what she considers to be the next super trendy item next year: the mask scarf! it is a combination on an official use mask with an elegant silk scarf. Keep it in mind and remember that it was Elisabeth who first told the world about it. Thank you for such a wonderful sit down.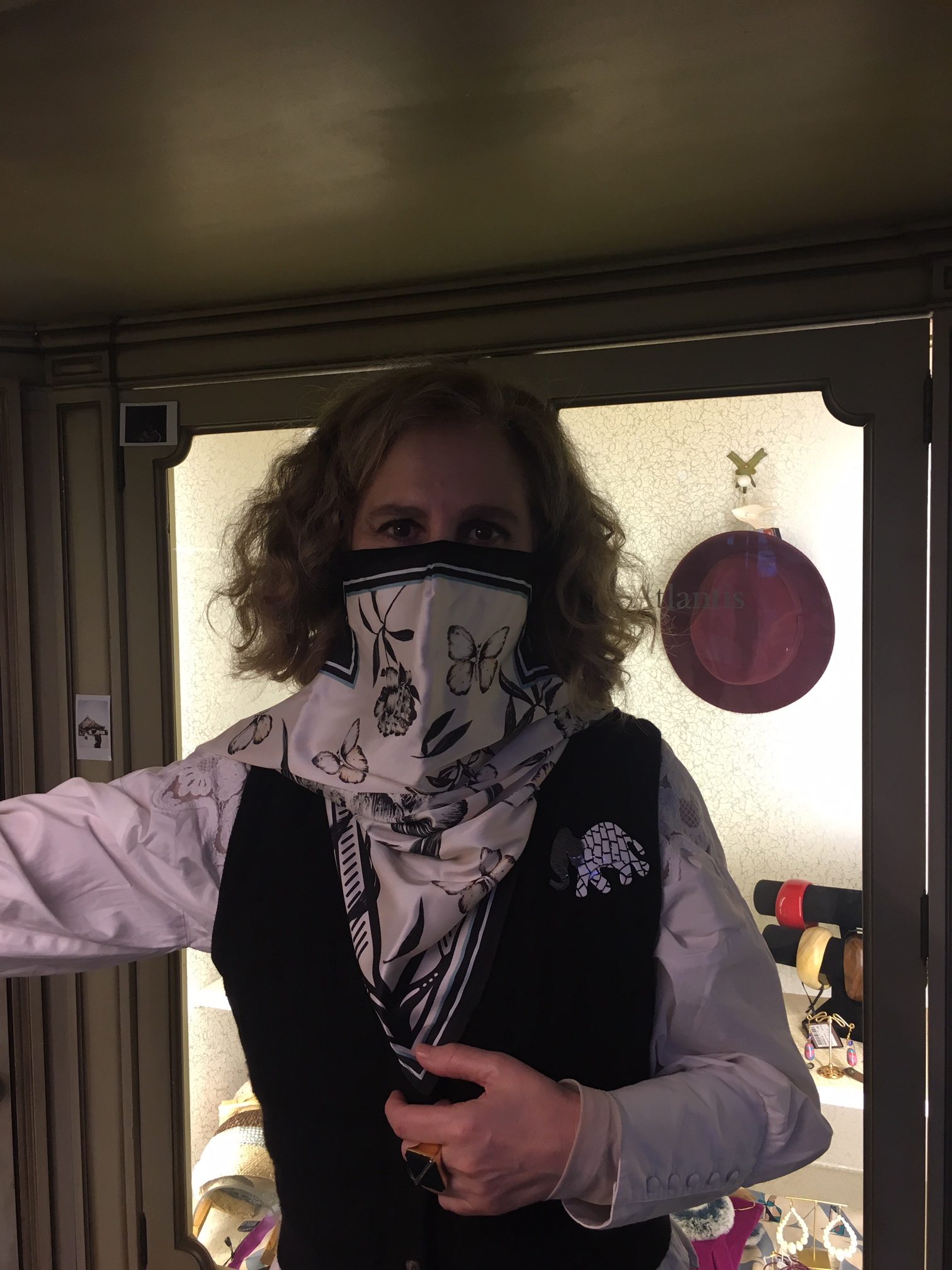 She likes to work with both traditional well known brands such as Christian Lacroix and others that might not be that famous but are equally talented and local. She collaborates with them and happily supports them.
Bear with us on this one; it is a real pleasure for the senses and a total experience that we strongly recommend.
3.- BOULEVARD 15 leather goods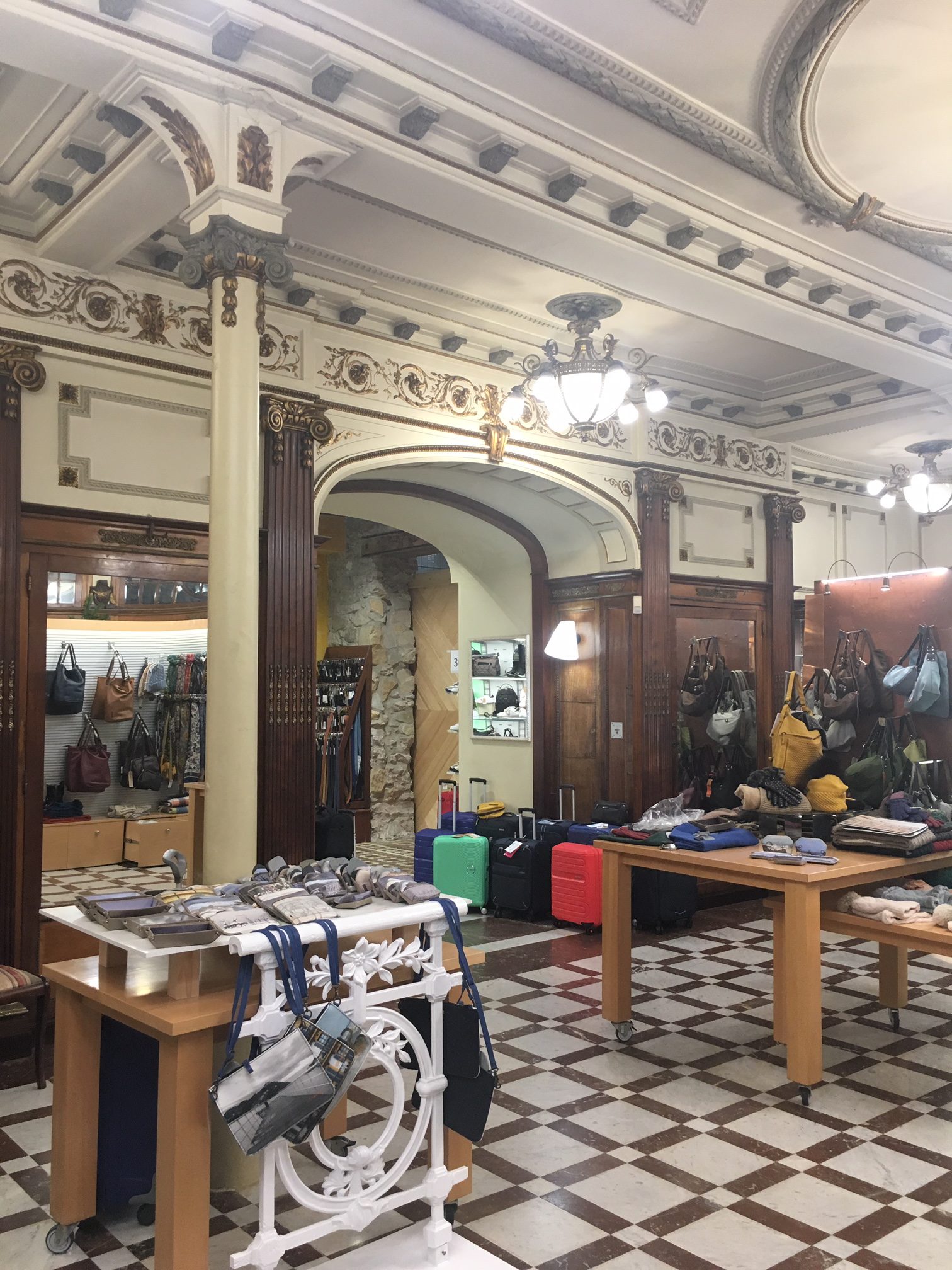 This is probably one of the oldest stores that you will be able to find in San Sebastian. They were established in 1917, and after many changes of business model and owners, currently they are a reference in San Sebastian when we are talking about small leather goods (SLGs). They proudly keep a copy of a piece of news that was published in 1917 in San Sebastian when the store was opened for the first time.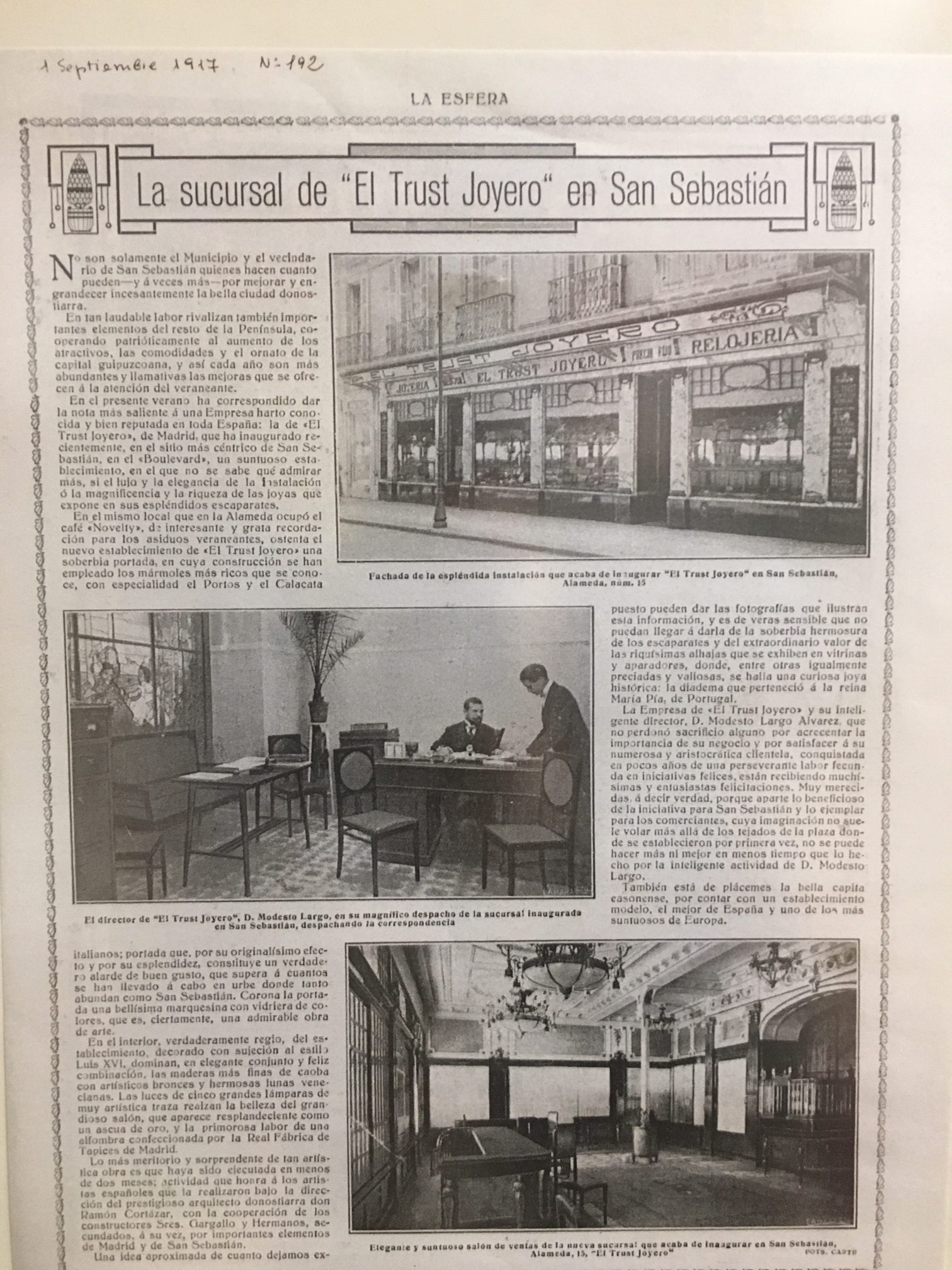 Do not you think these wallets are just so cute?. They have prints of some of the most iconic places in San Sebastian. We belive it is a very thoughtful and useful gift to offer.
At Boulevard 15 they do sell umbrellas also, with similar San Sebastian themed prints. San Sebastian, and the Basque Country in general, has a close relationship with rain and rainy days (unfortunately)…Nevertheless, it is because of this rain that our landscape is so green, vivid and beautiful!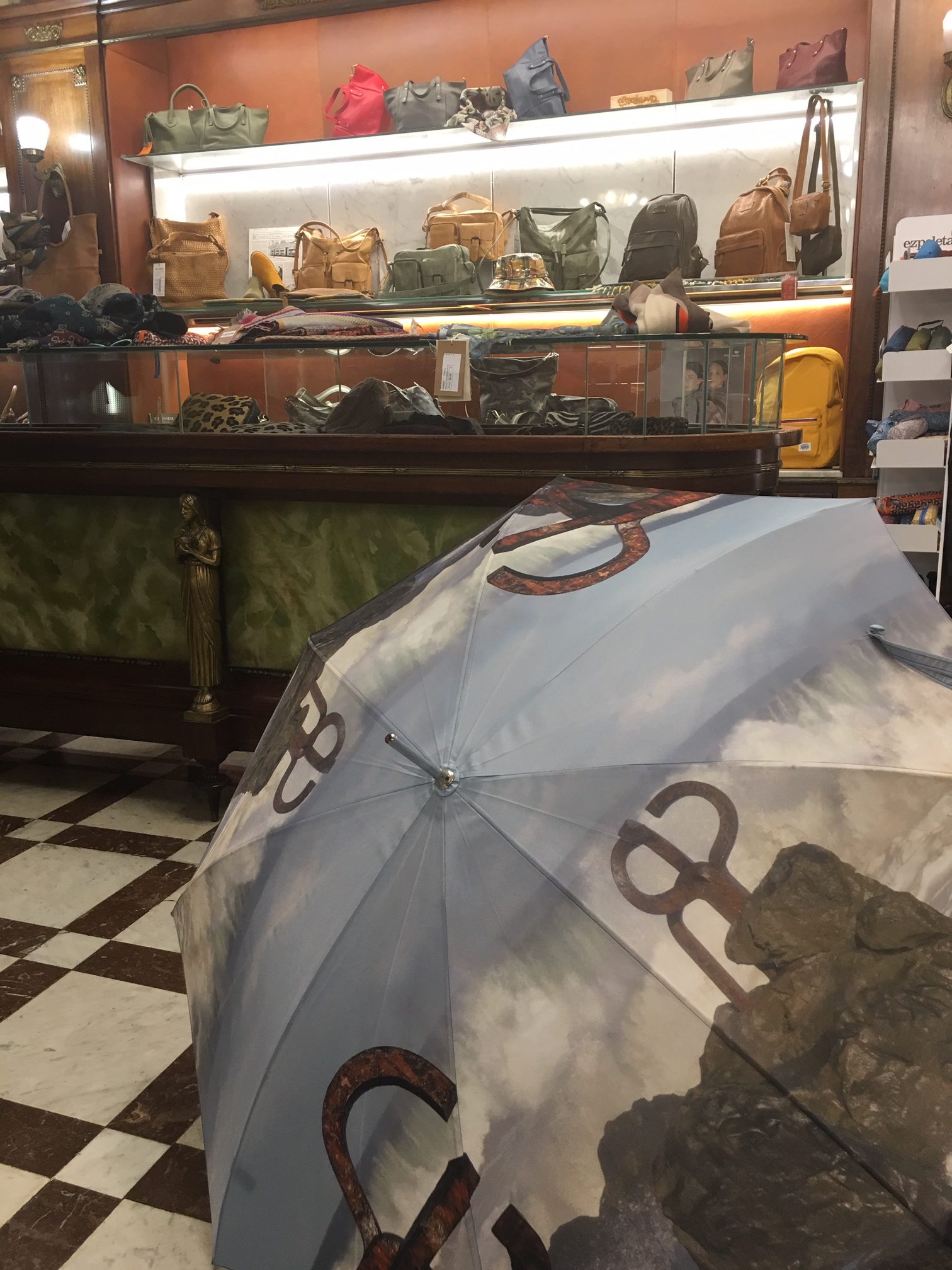 They are located, as it is mentioned in their name, at the Boulevard street, the very heart of the city. You will find them in your way to no matter where in town. And in case you are nearby the cathedral of Buen Pastor, please do check their second store called Barriola.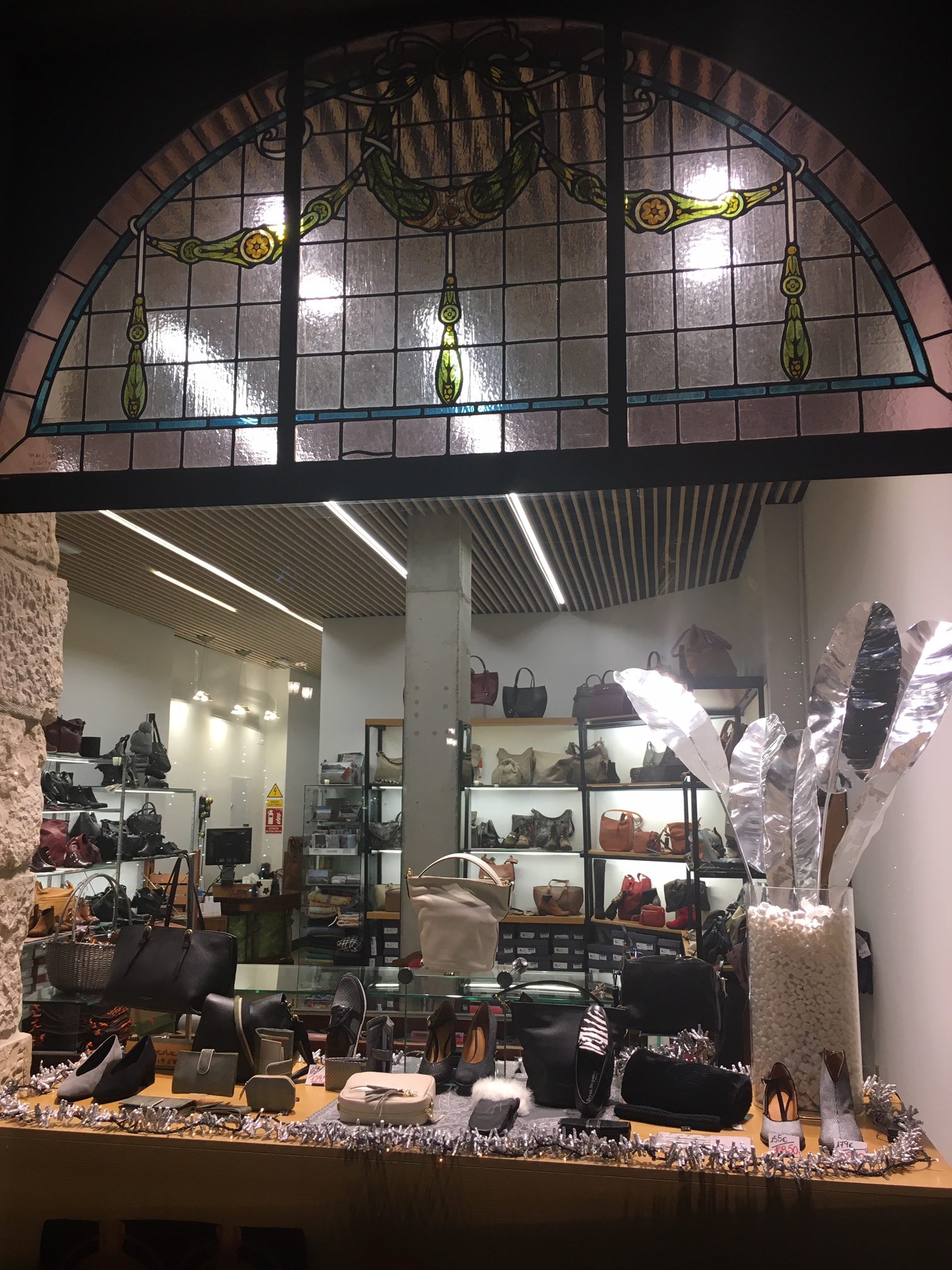 4.- LANCE & MALONE art shop
Lance & Malone is probably our favourite art shop in San Sebastian. From the moment we met them for the first time we fell in love with their illustrations, collages and creations in general. That is the reason why we are so happy to include them in this list of top 5 souvenirs you can buy in San Sebastian.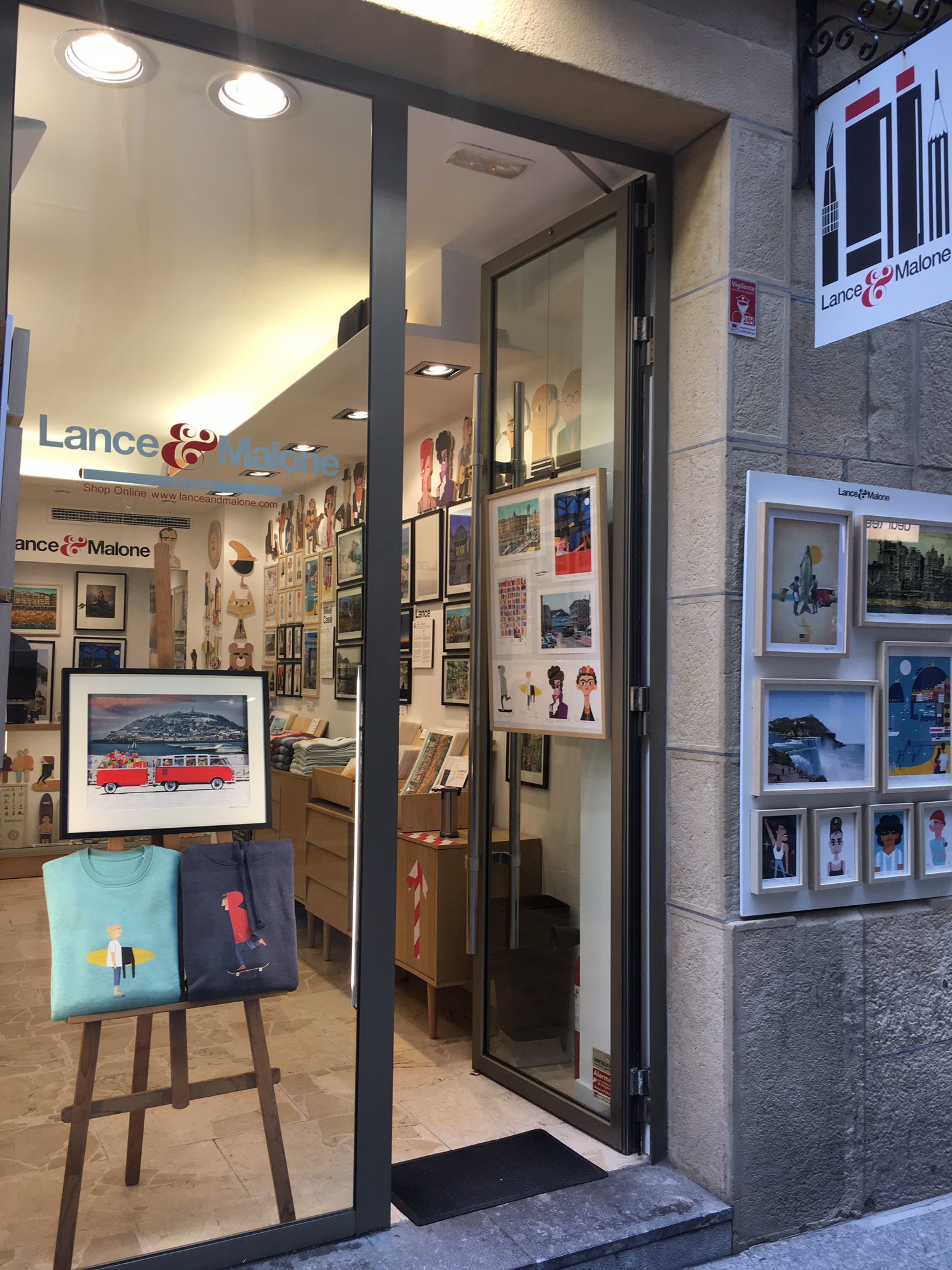 Two are the entrepreneurs, artists and partners in this business: Lance and Malone; but there are 3 other artists whose work is also displayed at the shop: Mikel Casal, Roskow and Rosco. That is the kind of team work that we love to see around us, we encourage and we applaud! It really inspires us!
In addition, all 5 artists are from San Sebastian! How much more talent can a little city like Donostia can offer to the world?
When we asked Lance about which is the art work that they sell the most, he immediately told us that the illustration of Anthony Bourdain is the top seller, by Mikel Casal. He reminds us that Mr. Bourdain was the person who kind of put San Sebastian in the map of cuisine lover tourists and the city should recognise that in some way. Many are the customers that come just to get this specific illustration.
They can ship their creations to anywhere in the world, so please, do not hesitate to check their web-site and instagram accounts.
We also invite you to stay tuned as we will publish another blog just about their store and we will give you more details about the artists and their work.
5.- LA OVEJA LATXA gourmet products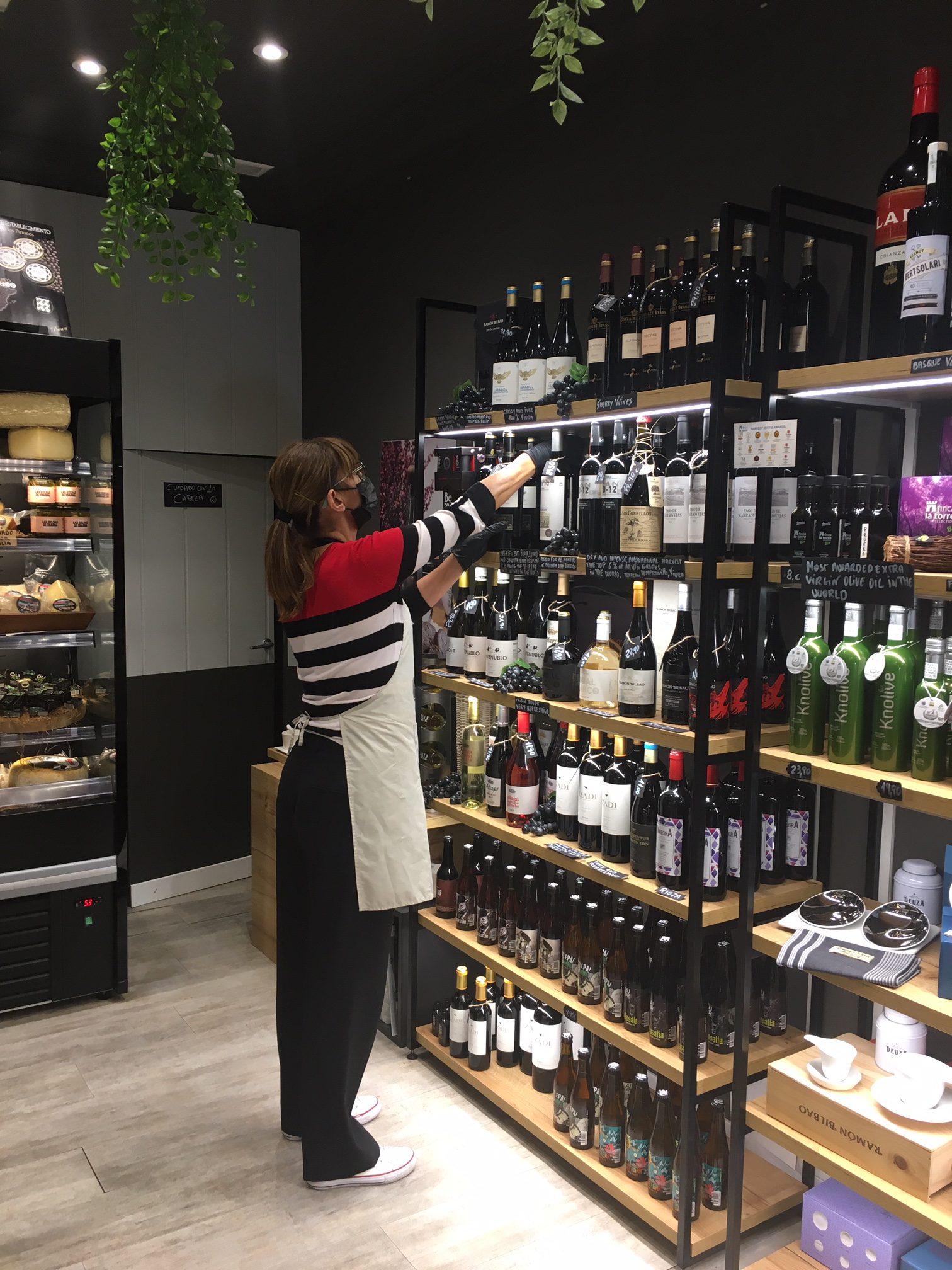 And last but not least, we could not forget to include something to eat or drink in our list of top 5 souvenirs you can buy in San Sebastian. In order to buy a gourmet product of the Basque Country that we are sure you must have been enjoying during your stay with us, we highly recommend La Oveja Latxa store in the Old Part of the city.
You will find a wide variety of local highest quality products and you will be able to taste some of them; which is quite rare anywhere else in San Sebastian. Idiazabal Gazta cheese, Getariako Txakolina wine and Piment d'Espelette peppers are just 3 of the many products that are waiting for you there.
Maider Lasa, a young woman entrepreneur, is the owner of this business and she was brave enough to open her two stores in the Old Par of San Sebastian during 2020 itself. Kudos to that! Many congratulations and we wish you to continue having a lot of success!
GILDA, A MUST at La Oveja Latxa
Every bar and restaurant in San Sebastian has the Gilda Pintxo. You will be able to find it everywhere and we are sure that you are going to not only like it, but love it and eventually buy it to take it back home!
That is why, it is the perfect Basque edible souvenir to buy. Look at the cute little jar that they are sold at!
Thank you, Mar, for arranging and staging the picture!
This was our list, we hope that you have enjoyed reading it. It is needless to say that San Sebastian offers many other products and goods; this was just a little taste of what we consider essentials. In any case, the best way to find out the best souvenir will be for you to come visit us and explore the city accompanied by us.