Christmas is around the corner and we at BASQUE TOURS, love to go window-shopping in our beautiful town. The shops look really nice during the festive season with very elaborate and creative Christmas ornaments. All year through, we must say, San Sebastian is well known due to its well-kept and optimally taken care window-displays. We will introduce you to the top 16 window-displays in San Sebastian, at Christmas.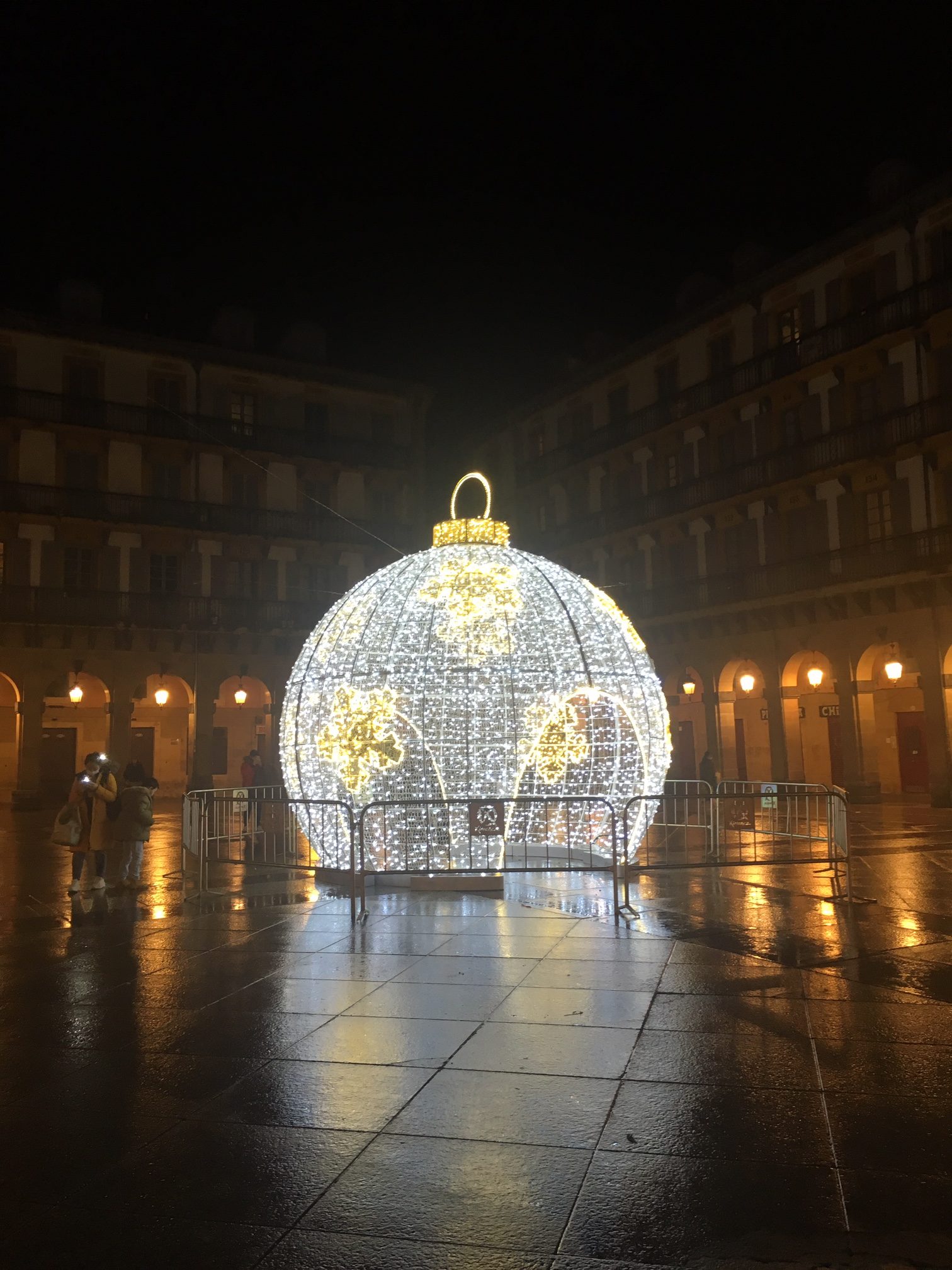 The municipality has embellished the city already and organises a Christmas decoration competition every year. Many are the little businesses that take part in it. The winner of this year will be announced next week, but would you like to come visit some of them with us now?
Those are the ones that we loved, caught our attention or just could not stop visiting them as they have become our classics every year. They have been listed in alphabetical order:
1.- ARENZANA supply shop
A tradicional business in the centre of the city. We all visit Arenzana shop, specially its window-display all year through. It is a must during the festive season. It is a beautiful shop and a visit (both outside and inside) is really an experience! Thumbs up!
2.- ARSÈNE ET LES PIPELETTES baby clothes
We love children at BASQUE TOURS and how cute are the clothes that Arsène el les Pipelettes brand sells in their so welcoming store in San Sebastian; right? This year they have prepared a little nativity that represents the birth of Jesus Christ. The Three Wise Men are also present in the display with presents for the newborn; can you identify them and do you know their names?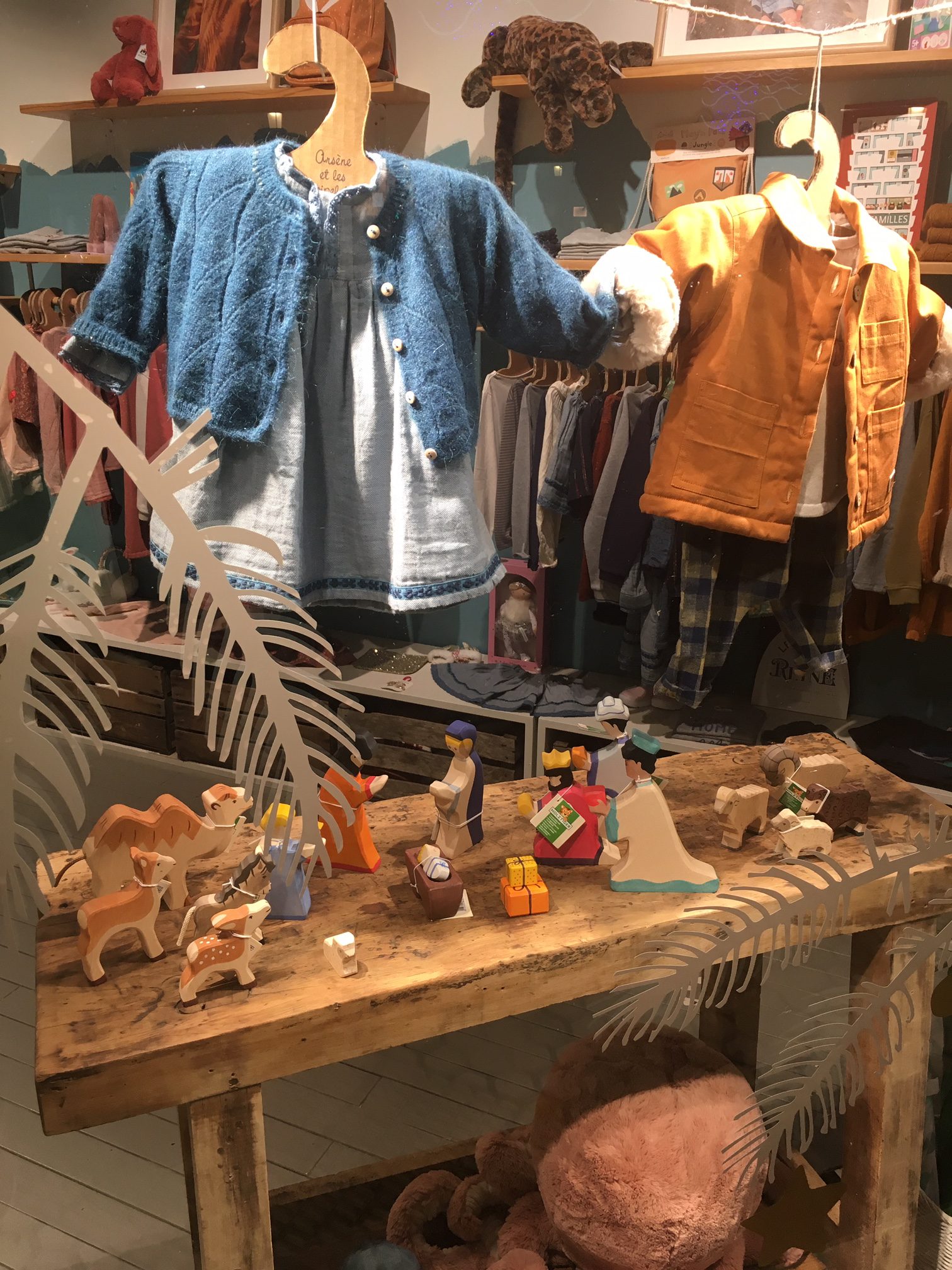 3.- BARBOUR clothes
This year our friends at BARBOUR have built a ski resort! Children of the centre of the town are delighted with the creation. The stuffed dog is a cutie and the little train keeps on going all day and night!
4.- BOTANIKUM flower shop
Natalia, the owner of BOTANIKUM, really knows her craft and this Christmas look at the original Christmas tree she has created. We love it! The flower shop is located in Gros, and you will be able to read more about it in an upcoming blog. Stay tunned!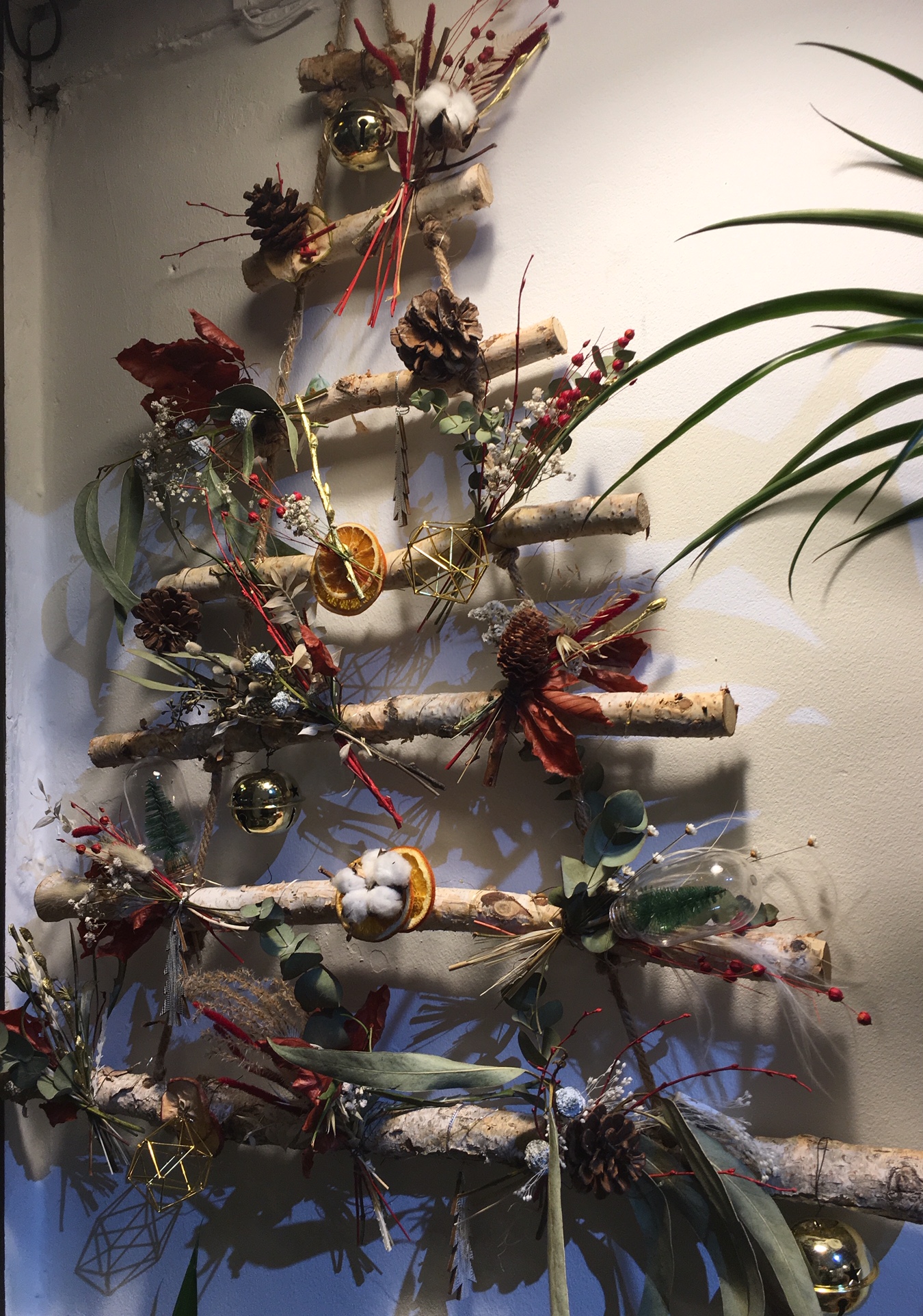 5.- FARMACIA CABEZUDO drug store
This is another must when we talk about original and creative window-displays. All year through this drug store displays very imaginative and mind-blowing window displays; taking into account they are a drug store, I think it is specially plausible. Well done! and yes! we can already smell Christmas!
The following Instagram capture corresponds to one of their creations back in the summer. Aren't they great?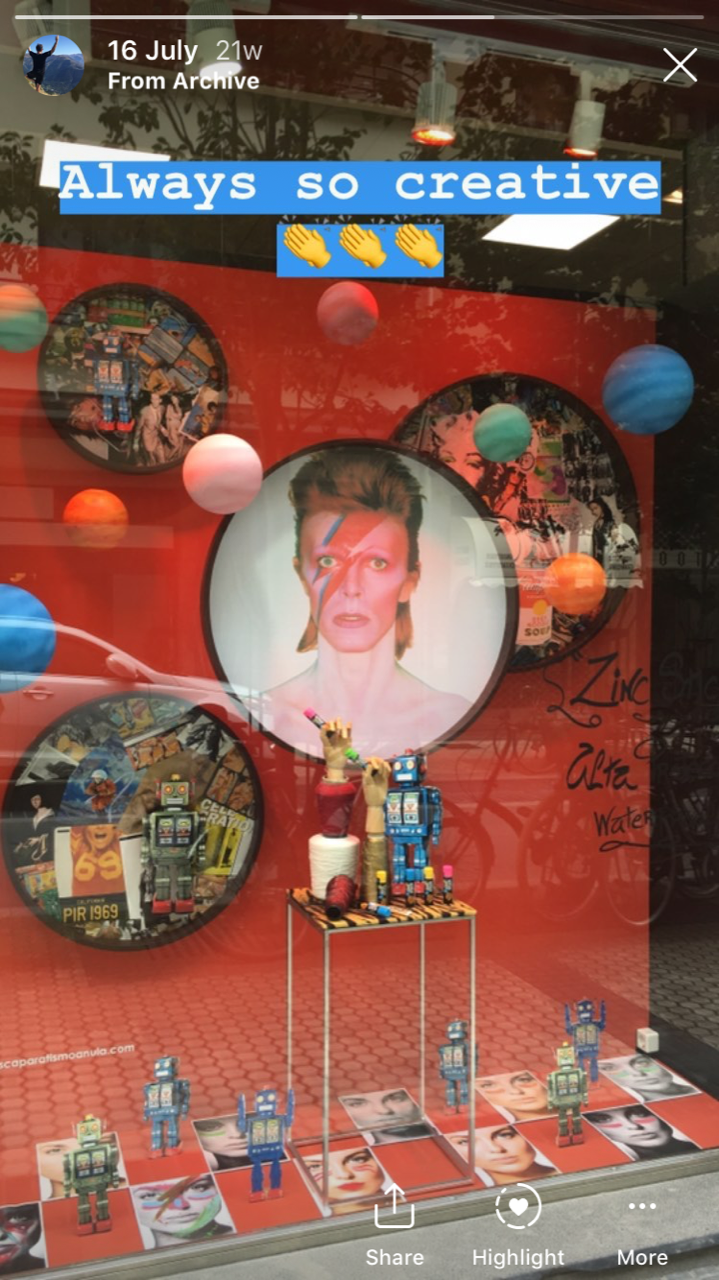 6.- FLOWERS & EVENTS by Josu Irizar
Josu Irizar and his team always create beautiful window-displays in their colourful store just behind the María Cristina Hotel.
What can we say about what they have prepared this year? A vivid and warm representation of the nativity. Isn't it gorgeous?
7.- GERALD'S bar & restaurant
Also in Gros, this is one of our favourite cozy places in town. The food is amazing, the people are great and look at beautiful display they have prepared at their entrance. Isn't it so welcoming and inviting? We will definitely visit them soon for dinner!
8.- HUMO pizza restaurant
We continue in Gros and congrats to this recently opened pizza place: HUMO. It is not an average pizza place, no, it has become the pizza place in town!
We cannot wait to go back and enjoy another pizza like the one in the picture we ate last time! It had cod fish…yummy!
9.- IRULEA baby clothes
If we are going to talk about tradition, we have to visit a business in the heart of the Old Town of San Sebastian: IRULEA. Among many other products, they are known by their baby and young children clothes. 
The Spanish and even the British Royal families are known to have bought items in this business in San Sebastian. Fancy a visit to feel like a Royal?
10.- LA CASA DEL CAFÉ coffee shop
This is one of the coffee shops where we stop and grab a coffee when we are touring the city with our customers. A great place with an even greater coffee. La Casa del Café means the house of coffee, and it truly is.
Look at Olentzero trying to sneak into the house in order to deliver toys for the children. Isn't it cute? Olentzero is the Basque Santa Claus. Do you know his story?
BASQUE CHRISTMAS FIGURES
Olentzero is the most important Basque Christmas figure, there is no doubt about that. Mari Domingi is another one. Here you have more pictures of both, also displayed in some of the shops in San Sebastian:
By now, you must have noticed that we have a sweet tooth at BASQUE TOURS. Here is another example of a very sweet window display. They are specialized in chocolates from a town called Mendaro, nearby San Sebastian. Delicious!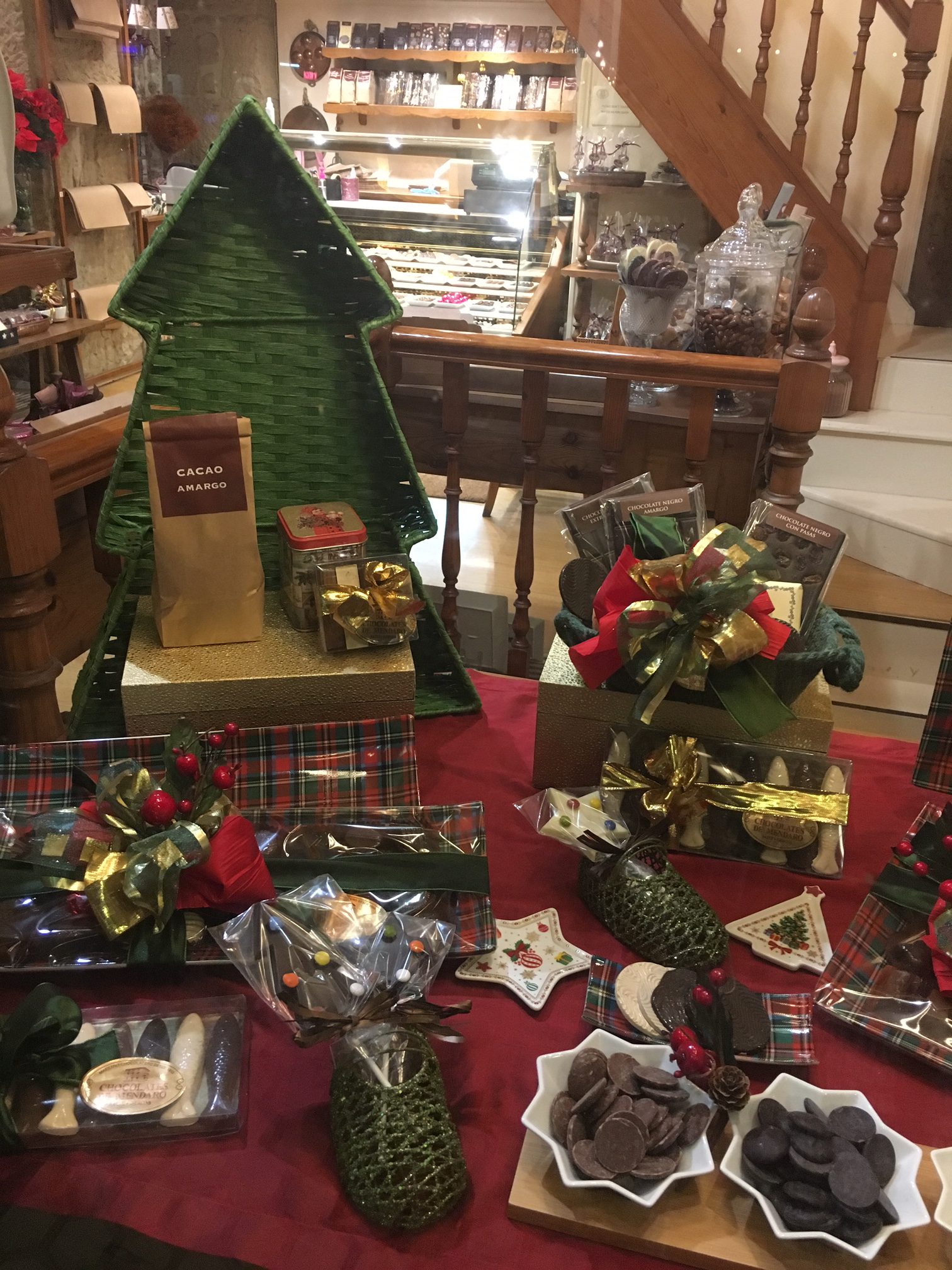 12.- CASA OTAEGUI bakery
Christmas will not be Christmas in San Sebastian without the turrón of Casa Otaegui. They are really delicious, trust us. A traditional business in town, home of the famous pantxineta. Definitely, one of the top 16 window-displays in San Sebastian, at Christmas. We love chocolate!
13.- LA GATA CON BOTAS erotic boutique
To be honest, we Basques are not known internationally because of our sex appeal, dance moves and flirting abilities. You know that we are big on great food, never ending hikes and cold rainy winters. Nevertheless, we also have erotic boutiques in town and look at the beautiful display our friends from La Gata con Botas have prepared this year. They are located in Antiguo neighbourhood. Did I just see satisfyers on that window!!! OMG!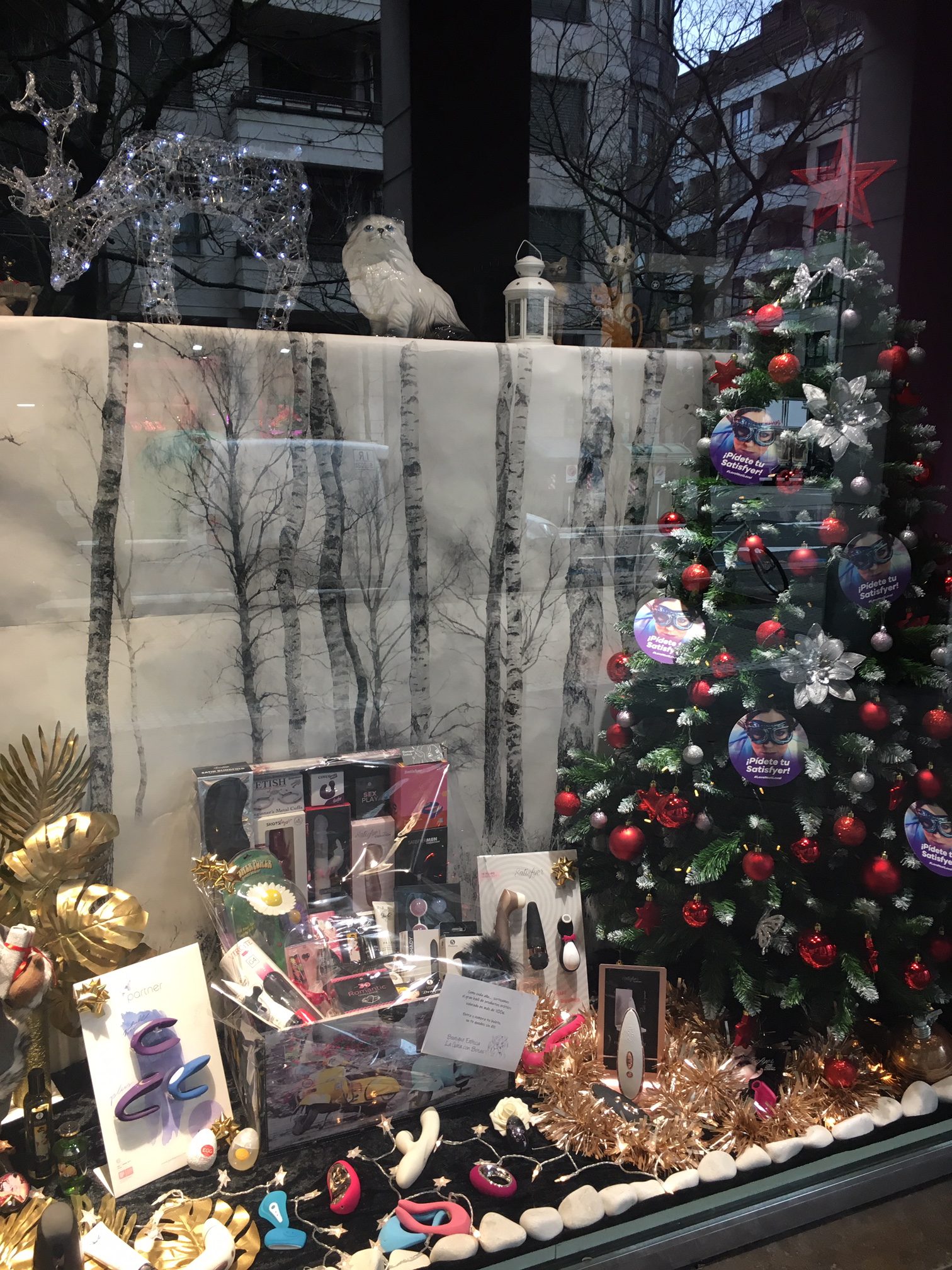 14.- TAMAYO stationery store
If you love stationery, as much as we do, this is the shop you must visit during your stay in San Sebastian: TAMAYO. It is located just next to the Main Street called Boulevard; which divides the Old Part of town and the ensanche or newer part.
This year they have come up with the following creation. What do you think? What does it represent? Any comments?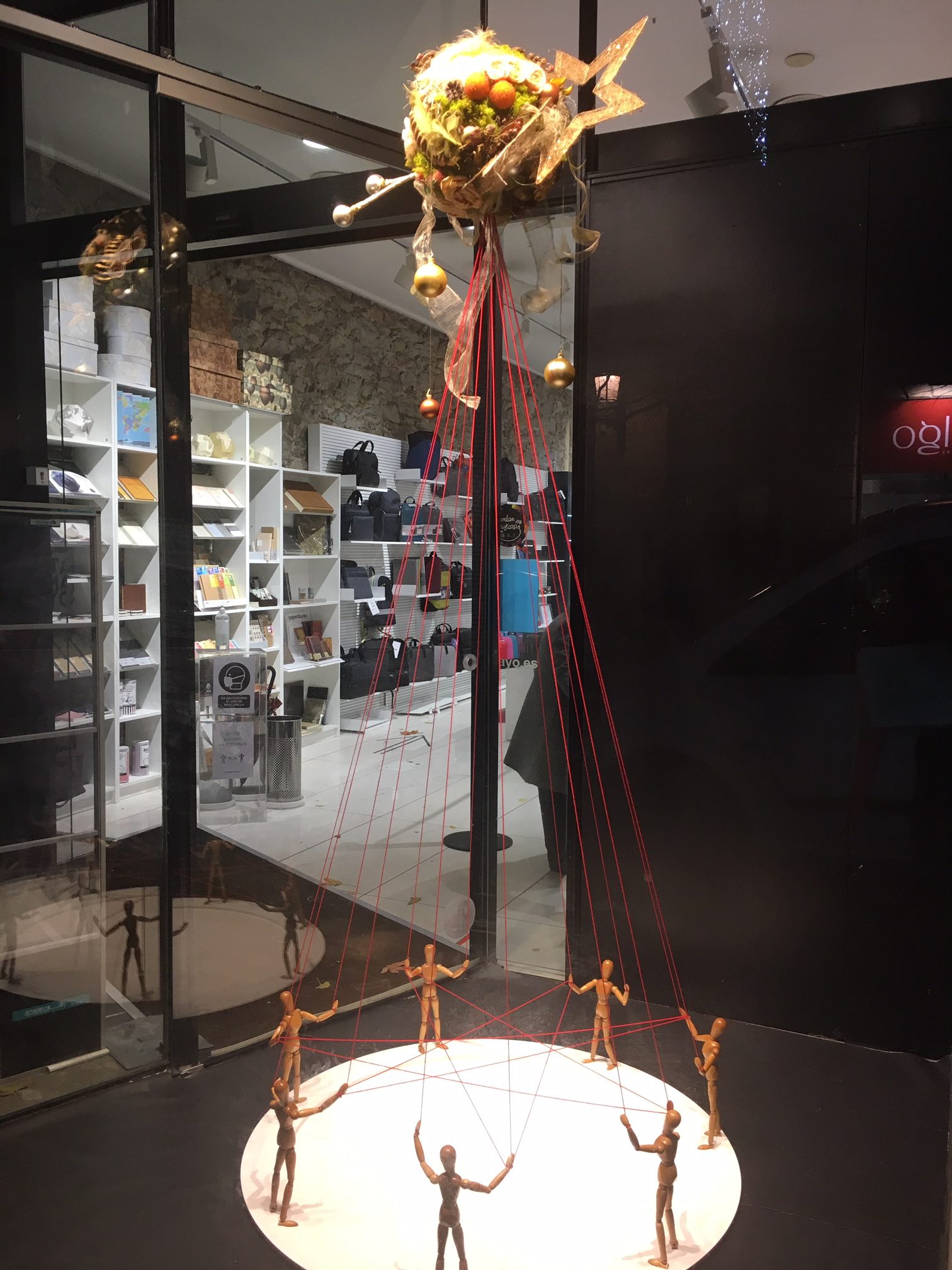 15.- MY TEA tea shop
Do you love gingerbread? Here you have the biggest gingerbread man in town. You will find it at MY TEA tea house. This is where we buy our masala chai and white tea with ginger and lemon.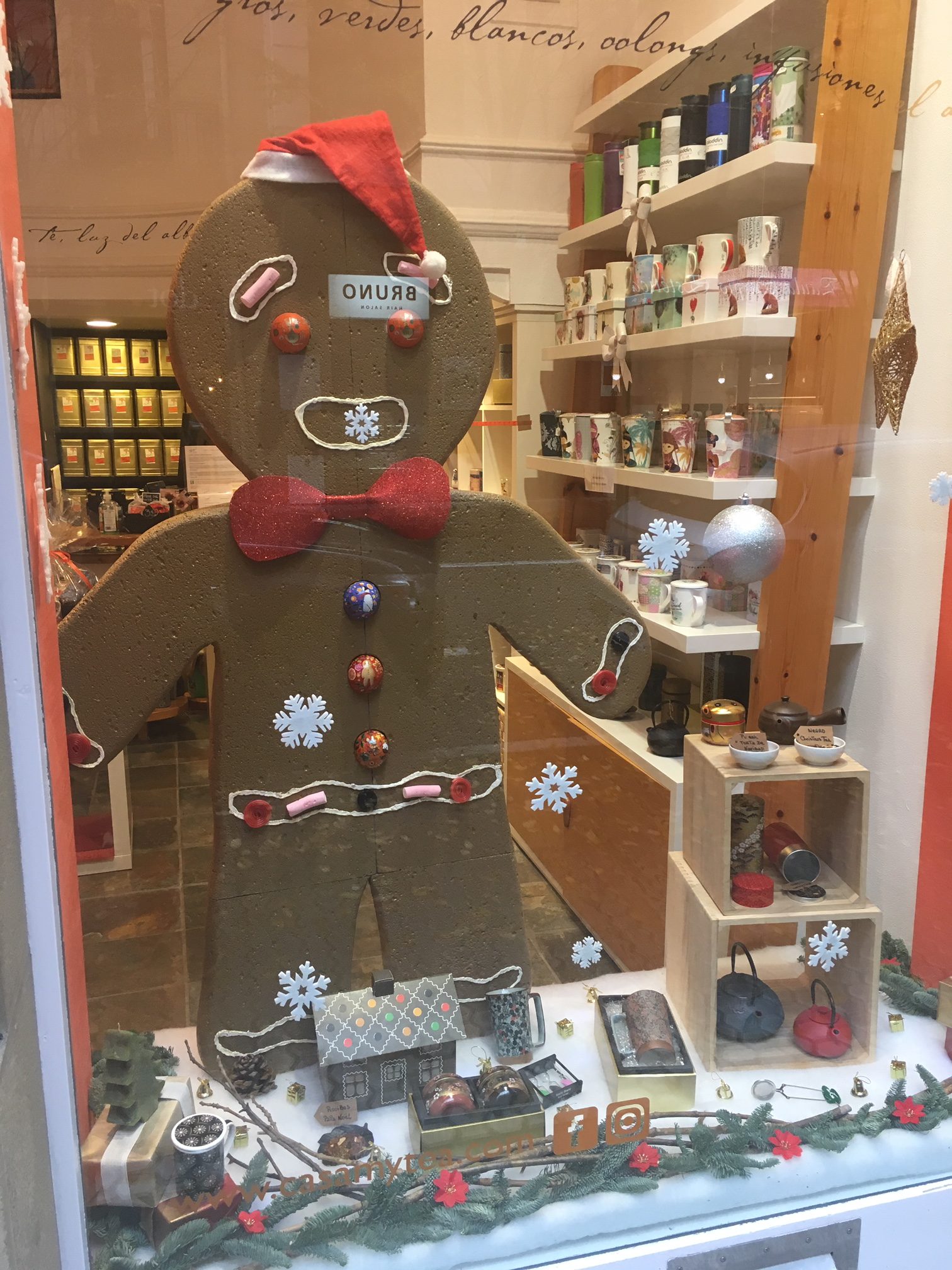 Our friends at Antojitos have also prepared the mini versions of it. Cute!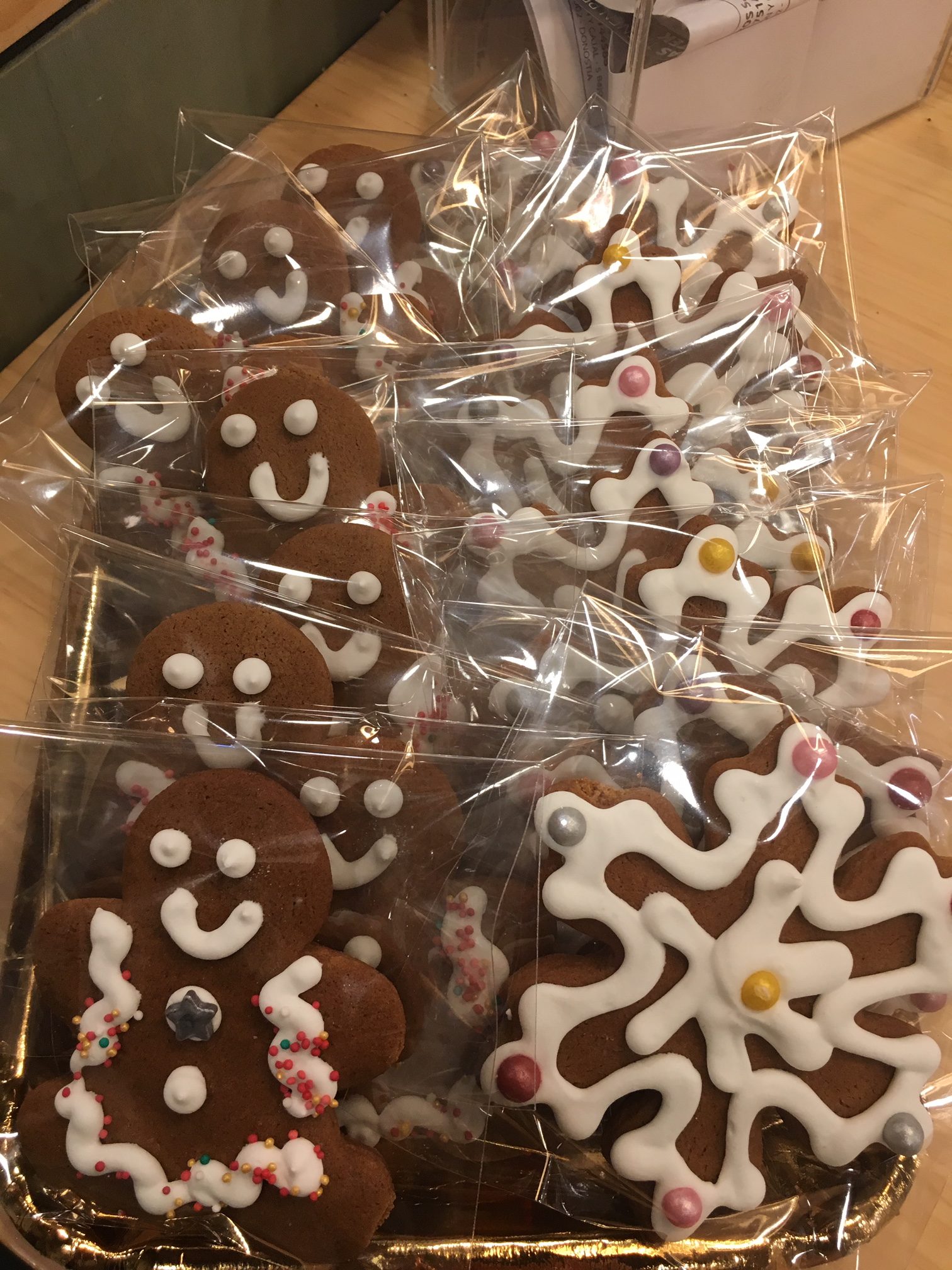 16.- VILLA FLORES flower shop
And last but not least, Villa Flores, the temple of flowers and plants in town, they have really surprised us this year. Look at the beautiful creation they are displaying at their main window! Mind blowing!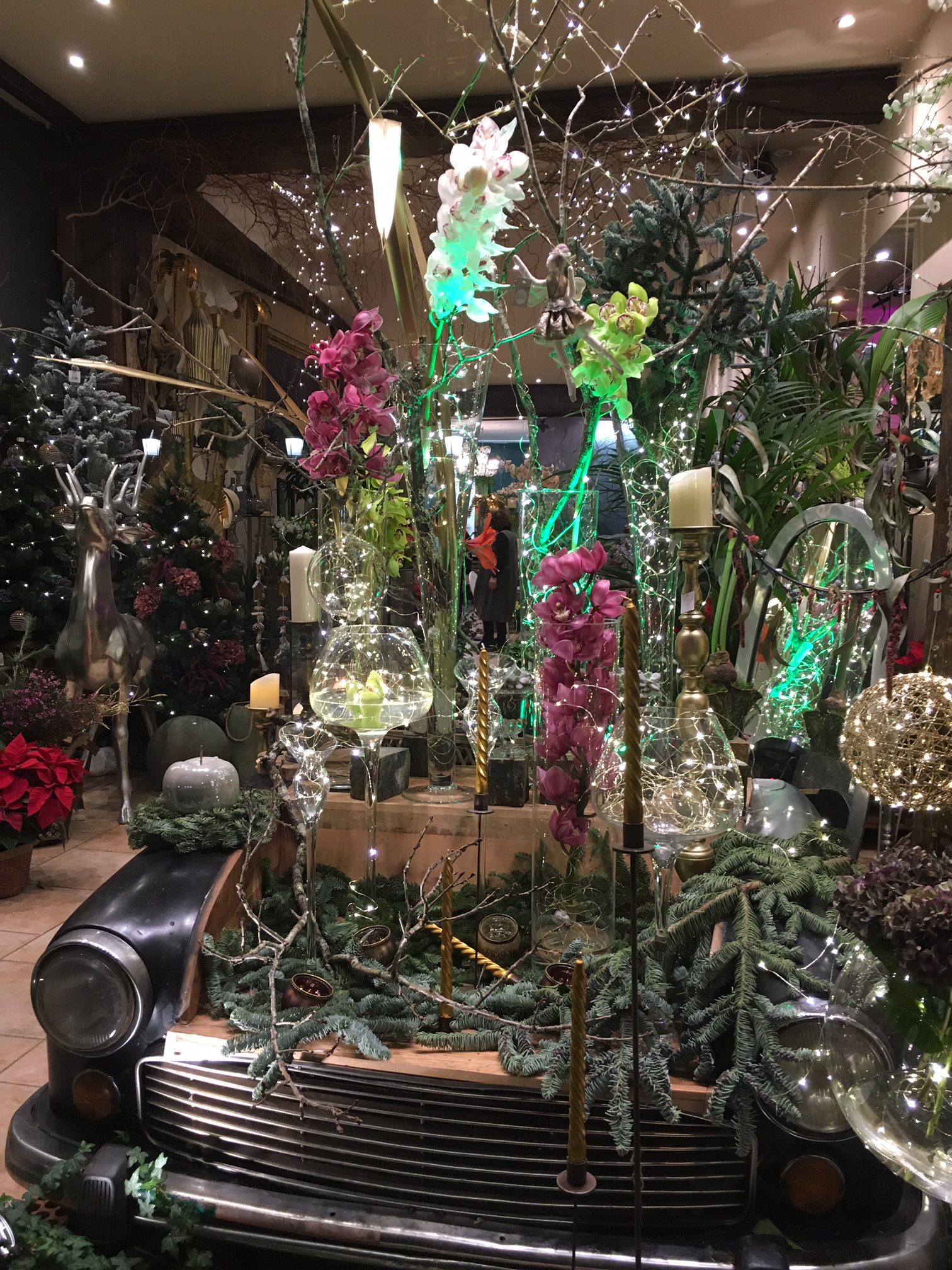 We hope you enjoyed this tour with us. There are plenty more beautiful window displays in San Sebastian, but those were the ones that we found most eye-catching this year; top 16 window-displays in San Sebastian, at Christmas.
Please, do not hesitate to ask us about those shops during your city tour with us!