Being honest, we could say they are envious of the natural beauty of San Sebastian city and they built this kind of huge and giant buildings and scultpture to get all the attraction.
But we must say #bilbaocity is a box of surprises. Discovering the Guggenheim Museum in Bilbao and the historic city center has its own charm but the city has a special vibe and energy that makes really fun to visit it.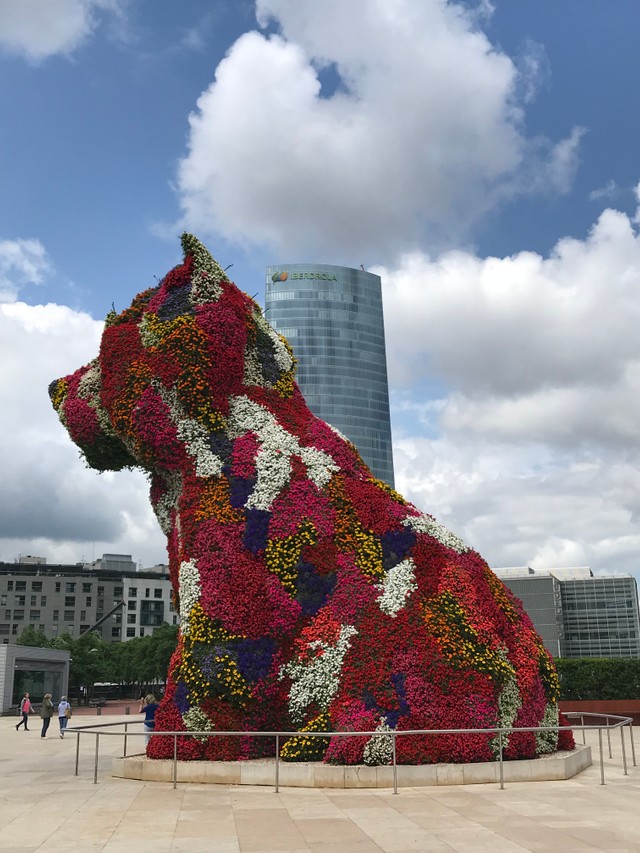 Who is Puppy, the flowery dog in front of the Guggenheim museum in Bilbao?
Who is Puppy? Is it a dog? It might not be a German Doberman or a bull terrier but is more than a dog: is the guardian dog of Bilbao City that @jeffkoons designed in 1997 and it has become the emblem of the city.
With more than 37.000 flowers, its one of the most photed dog ever and also the most gardening work ever. The flowers are changed twice a year and depending on the time of the year we will find it covered with different types flowers. For example at this time its covered with pansies and primroses. Although the weather is not the strongest point of #bilbaocity, Puppy makes it colorful.
Plus, its a dog that doesn't bark 😜 If you come to the Basque Country, we would be delighted to be your hosts in our Bilbao City&Guggenheim tour and for sure, be your photographers and take your picture with Puppy. ⁠

Many of you will be wondering if there is any particular obsession with creating enormous animal sculptures in Bilbao…first the Puppy, now this enormous spider. What happens in Bilbao?
5 INSIDER TIPS to enjoy as much as possible your Bilbao day-trip
⁠
💙 Get a deep breath at #artxanda viewpoint and feel how the mountains are the real guards of the city⁠ 🤩⁠
⁠
💙Get yourself lost in the Old Town at the famous "Siete Calles", is the best way to enjoy the historic part of the city and find really charming shops and bars⁠🔝⁠
⁠
💙Mercado de la Ribera offers the best seasonal Basque products:depending the season, you will have the chance to pick your own product and they will cook them for you in the moment⁠ 🌶️🍤⁠
⁠
💙Get an afternoon coffee at @cafeiruña, a belle époque time coffee from 1903 will make you travel to the past⁠☕🍷⁠
⁠
💙 Bring an umbrella, Bilbao is known for rain☔⁠
HOW TO GET TO BILBAO FROM San Sebastian?
Event that public transportation is a good option, the 1 hour drive, in a private car with your guide, will make things much easier. In the same time, during that hour drive, your guide will make an introduction to the past and history of this wonderful city, preparing the scenario for the WOW effect the Guggenheim museum will create in you!
TOP 3 PRIVATE TOURS TO BILBAO FROM SAN SEBASTIAN