On a steep hill top , overlooking the town of #Getaria, lies a charming family run winery.⁠ As soon as we arrive,Jose Luis is already waiting to welcome us to his home. ⁠We are in the temple of Txakoli, the Basque Wine.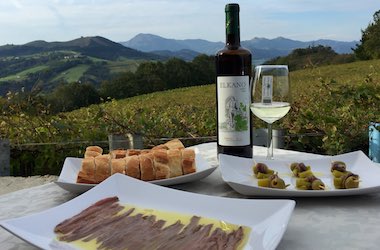 He has a strong handshake and a friendly face. Jose Luis and Itziar together with their children Nerea and Ekaitz are dedicated to these 5 hectares of land. He proudly tells us that his family has been in the business for a very long time and that although the family farm, where it all began, is closer to town, he moved the winery to this amazing spot. ⁠

He did not only move it there, but he built it ..by hand. See Jose Luis is a man that moved by love, has a force to do almost anything his heart desires. This could come from his grandfather , Zimmerman, a german marine, which boat was being repaired at Getaria´s port. The reparation took long, but his grandmother didnt. Soon enough Zimmerman was hooked and watched that boat sail without him in it.⁠

⁠Jose Luis, as a young visionary used to buy the stones of the houses that were tore down and saved them until he built his house. He is also an avid fisherman and boasts casually that he even built his own boat. His family is famous for a iconic dish in the Basque Country , Chipirones a lol Pelayo ( squid with onions). And we know that a well known chef flys across the world with his friends once a year to have Jose Luis cook for them.⁠

So you can imagine that when it comes to his wines , he works his magic.⁠
Txakoli is a dry white sparkling wine that pairs very well with..yep you guessed, anchovies, peppers, olives and our Idiazabal cheese. As I say " what grows together, goes together" . This family make two different wines⁠
Elkano for a Basque palate, what we expect from a good Txakoli. And then there is his baby ( 9 months of elaboration) which is Juan Sebastian. A gourmet wine from his favourite vines. ⁠
⁠
May we hear these stories a thousand times more Jose Luis. ⁠
HOW TO GET TO THIS TXAKOLI WINERY FROM San Sebastian?
THESE ARE THE 2 BEST TXAKOLI, THE BASQUE WINE TOURS FROM SAN SEBASTIAN: