Reading is a great habit, and we donostiarras invest quite a lot of our time doing so. Maybe you have discovered our city because of your reading habit, who knows. There are plenty of bookshops spread out through San Sebastian; all of them offer a wide variety of books, novels, travel books, photo books, etc. in many different languages. In any case, we would like to highlight the top 3 bookstores worth a visit in San Sebastian.
During your holidays we are sure that you take advantage of your time to do some catching up on your reading. In case you need a good book for your flight back home, here you have a little taste of our selected top 3 bookstores worth a visit in San Sebastian. Please do ask us to give you more details about them during your city tour with us.
Professionalism, passion for books and friendliness
All three of them share the same qualities that we love and appreciate, and that is why we continue to go buy books there. The people that work in these 3 stores are really professionals, they know their business, they are always kind and happy to help you and they really give you great advice in case you need some help when deciding what to read next. Their friendly nature really makes you come back to them again and again.
Here you have the top 3 bookstores worth a visit in San Sebastian:
HONTZA liburudenda
Located just behind Victoria Eugenia Theatre and Maria Cristina Hotel, it is the place to go when you really need some advice or suggestion on what to read next. Esther, who has been working at Hontza since the beginning, will happily assist you on your research, and will give you not one, not two, but at least 3 different reading options according to your taste and interests.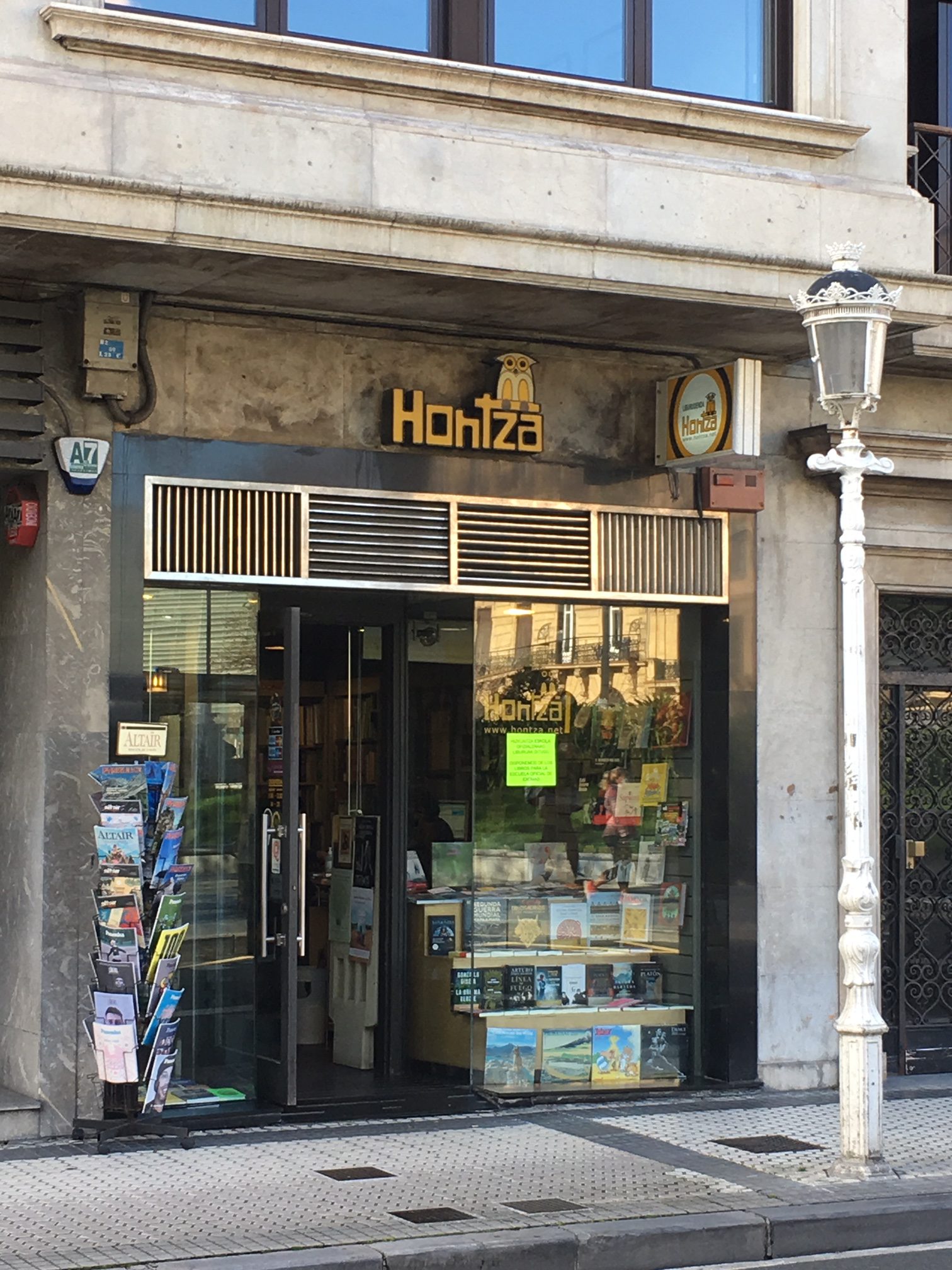 They have a wide variety of pieces available, both in Basque and Spanish, but they also have English and French pieces. Just at the entrance, they showcase their complete travel books collection. Unfortunately, now it has been relocated within the store, but they are positive that they will bring it back to its original place soon.
When asked about what we should read next, Esther immediately gives us 2 options:
HONTZA recommends:
Miñan, by Amets Arzallus and Ibrahima Balde. It is a book that has been written in Basque and Esther tells us that she expects it to be translated into other languages soon. Amets Arzallus is a well-known Basque writer, but he is better known as a bertsolaria. Do no you what bertsoak are? Keep reading our blogs and you will find out. Amets has written Ibrahima´s story, a story of an immigrant that lives with us now but struggled before coming here from Guinea in Africa. The book is a great recommendation, taking into account that we are just immersed in Euskaraldia event. An event to promote and enhance the use of Basque language in our community. It is already its second edition and we hope to participate in many more in the years to come.
Imposible, by Erri De Luca. The book is available in Spanish in the store, but we have checked, and it has also been translated into English, amongst other languages. A fascinating and intriguing story according to Esther. We will leave it there for you to explore.
DONOSTI liburudenda
The first thing that we should mention about this historic bookstore is that it is at Bilbao square (plaza); Donosti bookstore in Bilbao square…funny, right? Everybody in San Sebastian knows about this emblematic shop and at least has bought a book there.
They are specialized in languages and we all have bought our English, French and even Arabic learning books there. In any case, apart from language learning books and books in different languages, they do have a wide variety of other kinds of genres too; you just need to ask. Andoni Azurmendi, his brother Santi and Nuria Moreno will assist you also in whichever need you may have. If a book is not available at that particular moment in time, they will make sure to bring it as soon as possible.
When asked about what we should read next, Andoni recommends us a book of a local writer from San Sebastian: Los trucos de la bestia, by Lide Agirre. In addition, the story of the book develops also in San Sebastian. When we were visiting the store, the book was sold out (that is a good sign!), but they were going to bring more units in the following days.
DONOSTI recommends: Los trucos de la bestia, by Lide Agirre.
RE-READ liburudenda
Finally, we need to talk about RE-READ bookstore in Gros. You know that we at BASQUE TOURS love a bargain. We are, at the same time, very conscious about the environment and we truly believe in the mantra: Reduce, Reuse and Recycle. That is why we keep going to this second-hand bookstore. They really have bargains there; just for 3 euros you can get a great book!.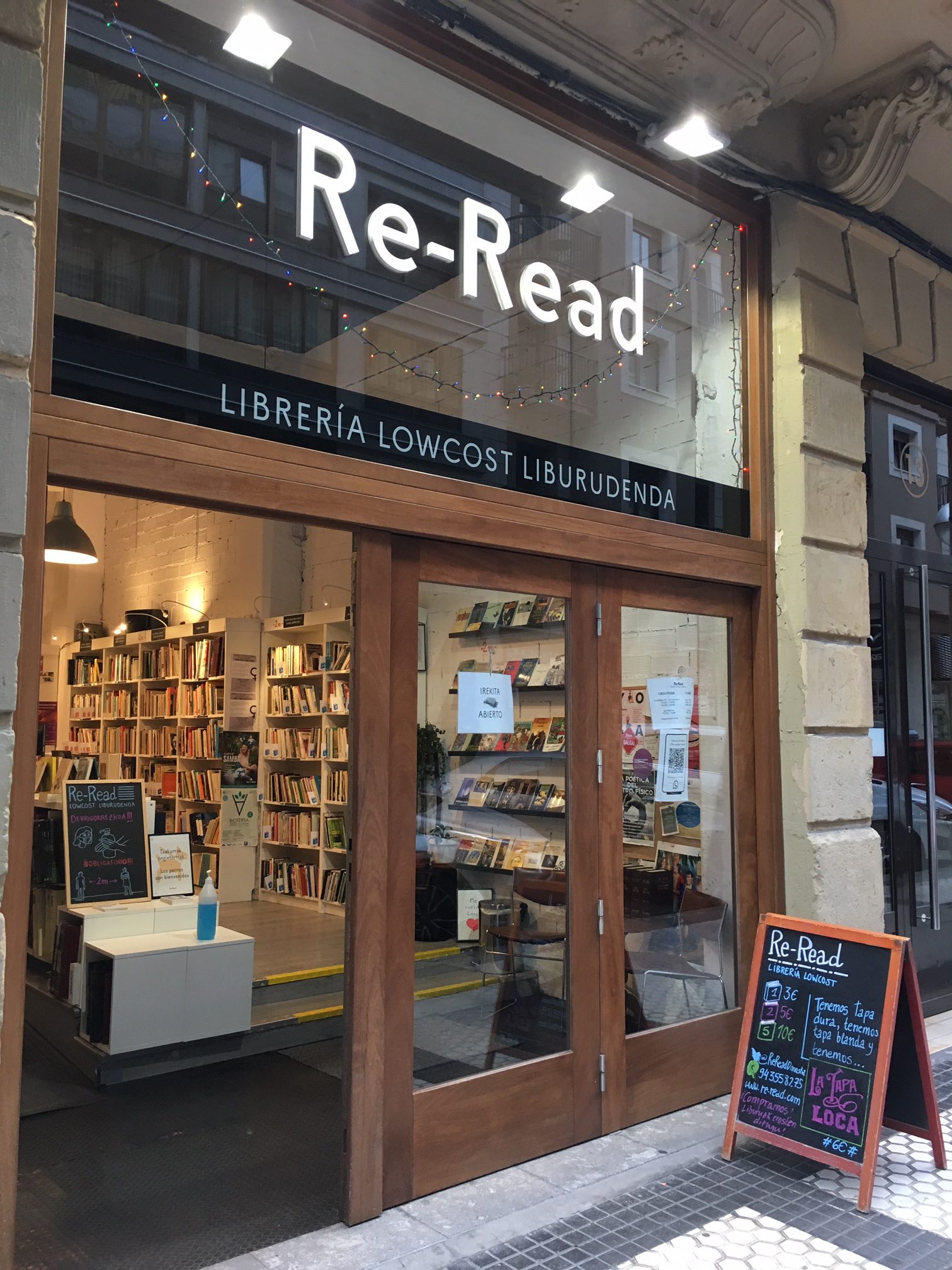 They have been in Gros neighbourhood for the last 4 years, and the owners, Marco Poppelmann and his wife Beatriz Moral are very happy with the community of readers that has been created around Re-Read. The atmosphere in the shop really invites you to stay there for a while, reading and exploring; or just enjoying the music Marco wisely plays. Nowadays, customers can also buy some wine along with their books; that is being creative, yes it is!
When asked about what we should read next, Marco, who is originally from Germany himself, without sparing a second, went to a shelf and brought a book that he says, helped him understand Spanish language and culture: Sin noticias de Gurb, by Eduardo Mendoza (available in English also). Not only has he recommended this book to us, but he has actually gifted it to us. Thank you so much Marco for this special treat and gesture, we really appreciated it.
RE-READ recommends: Sin noticias de Gurb, by Eduardo Mendoza.
On a more personal note, we hope reader, that you have already realised that liburudenda means bookstore in Basque. Here you go with another Basque word!