The physical and emotional benefits of taking a dip (or swimming) at La Concha beach are well known since Queen Isabella II of Spain was suggested to do it by her doctors in the mid 19th century, as they believed it would help her with her psoriasis. Up to that moment, and even until much later, it is hard to believe that people would not know how to swim, or even how to enjoy the pleasures of a refreshing sea water dip in the hot summer months. Keep reading to learn how to swim like a royal in La Concha.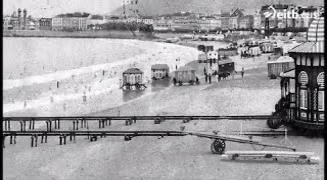 In the late 19th century and the beginning of 20th, both La Concha and Ondarreta beaches displayed a beautifully orchestrated spectacle during the summer months. Queen Isabella II started a fashion that both Queen Maria Cristina and Queen Victoria Eugenia followed religiously every summer afterwards. Court will move to San Sebastian and the sea experience required more of an infrastructure. A quite rudimentary but efficient system was implemented in order to bring members of the royal family and the aristocrats who followed them closer to the water from the changing premises (casetas); a system that involved rails and oxen strength.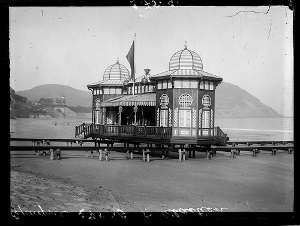 In these days, the ritual of taking a dip or even having a swim at La Concha like a Royal consists of 3 basic but at the same time essential steps. In order to have the full experience, please follow all 3 of them:
3 steps for perfect dip in La Concha Beach
The Cantabrian Sea, part of the Atlantic Ocean, is not the warm and friendly Mediterranean Sea, so it tends to be quite cold all year around. Prepare your body for this temperature change with a quick coffee (un cortado). The closest spots for that would be: Cafetería Oiartzun in the Boulevard, the cafeteria at the Londres Hotel, or you can always have a takeaway at La casa del Café coffee shop.
Once your body is warm, it is time to access the beach. For those of you that are a little bit fussy about the sand, you can always leave our stuff at the public lockers that are available at the beach itself. A safe place to leave your belongings and a hot shower provided at a very reasonable price. Afterwards, it is time for the dip! The perfect entry point for an unforgettable dip is in between the 2 main clock towers at the promenade.
After you swim like a Royal in La Concha, it is time to warm up the body once again. The Old Part of the city is just meters away and one can enjoy a wide variety of pintxos and drinks there. Our favorite for this specific occasion is the fish soup at Izkiña bar and restaurant. It is really a restorative and invigorating soup that will give you energy to continue with your day.
Those were the 3 musts to have a perfect experience! If you complete it like explained, you would have lived a real tradition that many locals follow for years.
It only takes 30 minutes to complete the whole cycle, so please, do ask us for it during our city tour.