Martín Berasategui: The Culinary Genius of Basque Cuisine
From the heart of the Basque Country in Lasarte Oria comes an unparalleled culinary experience led by the renowned chef, Martín Berasategui. His unique journey into the world of cooking started at the famed Bodegón Alejandro in San Sebastián, where he was inspired by the culinary talents of his family.
By the age of 14, young Berasategui was already diving deep into the culinary arts, and his passion has only grown since. Today, his signature restaurant in Lasarte Oria, adorned with three Michelin stars, stands as a testament to his dedication and skill.
However, the Lasarte Oria establishment is but one gem in a glittering crown. Other jewels include the Restaurante Lasarte in Barcelona, MB in Tenerife, and the breathtaking Fifty Seconds in Lisbon. Each of these venues encapsulates Martín's devotion to excellence and innovation.
Menu Prices at Martín Berasategui's Flagship Restaurant
A visit to Martín Berasategui's restaurant promises an array of exquisite dishes crafted with the finest ingredients. For those considering a visit, the tasting menu is priced at 355 euros, with an additional wine pairing option at 195 euros. An à la carte option, featuring a starter, main, and dessert, is available for 270 euros. Adding wine pairing to this experience costs another 105 euros. To get the most updated pricing, a quick check on their official website or a call to the restaurant is recommended.
Michelin Accolades
Berasategui's flagship in Lasarte Oria is a proud holder of three Michelin stars. This speaks volumes of the exceptional culinary experience awaiting every guest.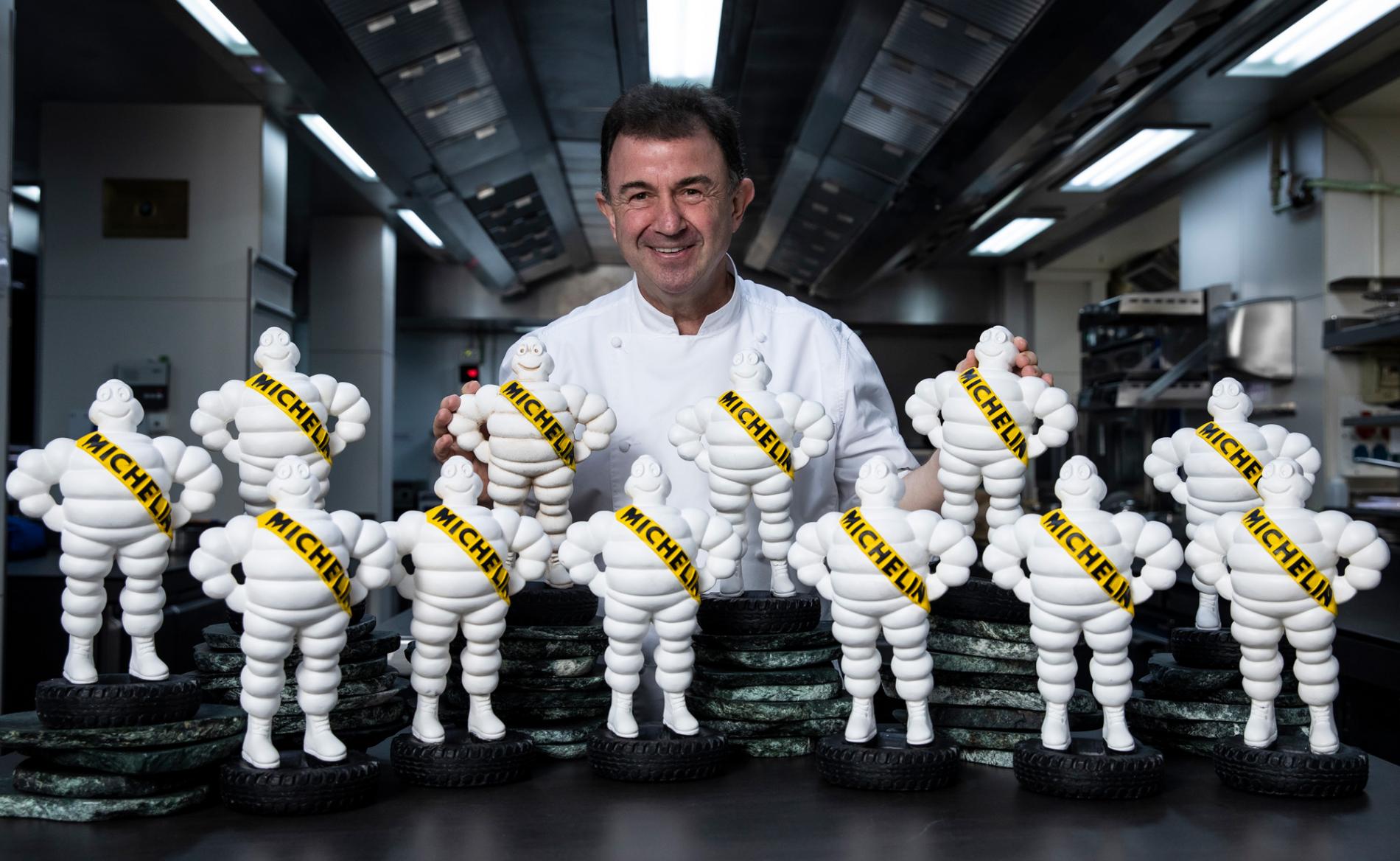 The Culinary Empire of Martín Berasategui
Spanning various locations, Martín Berasategui has a total of seven restaurants under his belt. Each establishment echoes his love for Basque cuisine and dedication to unparalleled quality. Among these, the restaurants boast a combined 12 Michelin stars:
Three-star Michelin Restaurants: Martín Berasategui (Lasarte, Spain) and Lasarte (Barcelona, Spain).
Two-star Michelin Restaurants: MB (Guía de Isora Tenerife, Spain).
One-star Michelin Restaurants: Fifty Seconds (Lisbon, Portugal), Ola Martín Berasategui (Bilbao, Spain), Etxeko Ibiza (Ibiza, Spain) and Oria (Barcelona, Spain).
World's Best Chefs
Alain Ducasse holds the world record with 20 Michelin stars across his global ventures. Closely following is Pierre Gagnaire, another culinary maestro from France. Yet, with 12 stars spread over seven restaurants, Martín Berasategui shines as Spain's Michelin star heavyweight.
A Personal Note from Us on Martín Berasategui's Culinary Experience
Having journeyed through many gastronomic delights, we've encountered countless culinary masterpieces. Yet, our experience at Martín Berasategui's resonates on a different level. As soon as we entered, it felt as though we were enveloped in culinary enchantment. The dishes are more than just food; they are a tapestry of history, emotion, and tradition.
It's rare to find a venue where each morsel seems to communicate directly with one's heart. The harmony of flavors, the meticulous presentation, and the immersive ambiance come together in a harmonious dance. And believe us, it's a dance you wish would never end.
So, from our collective culinary adventures, here's our heartfelt recommendation: Don't let the chance slip by without experiencing a meal at Martín Berasategui's. It transcends the realm of dining. It's an odyssey, a narrative, and above all, an enduring memory. Secure a reservation, and allow yourselves the luxury of an unparalleled gastronomic journey.
Upcoming Gourmet Explorations
Our passion for uncovering and sharing exceptional culinary experiences doesn't stop here. Throughout our gastronomic journeys, we've had the privilege of indulging in some of the world's most prestigious Michelin-starred restaurants. And we want to take you along on this journey. Stay tuned for in-depth analyses of these culinary gems in our upcoming articles.

And in the meantime, if you want to learn more about the best Pintxos spots, click here.